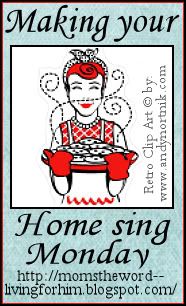 Welcome to the Making Your Home Sing Monday linky party! Every day you are doing something to make your house into a home for yourself and your family (if you have one).
My point with each Monday post is, what are YOU doing or going to do today to make your home sing? It can be an attitude or an action. So have fun, do some blog hopping, and link up!
Thanks!
Topics can include marriage, parenting, encouraging women, organization, cleaning, saving money, our behavior and attitudes, homemaking, homeschooling, recipes.....the opportunities are endless.
Note: We
had
116
linkups last week! You guys are awesomely amazing and amazingly awesome! Don't forget to visit one another and try to leave a comment
on at least one blog to encourage someone today! :)
On
the left sidebar (down towards the bottom) is the "Making Your Home Sing! Monday" button which I'd love for you to grab and paste into your post! It is a "no-follow" button.
My son has gone to a movie with his friend and his friend's dad.
It's like old times. Except my son is now 23.
Having friends who are willing to speak into your childrens' lives is awesome. Why? Because:
Friends Support You
When our kids were growing up, they knew that it wasn't just mom or dad keeping an eye on them. They knew that their behavior would be reported back to us, because we CARED.
We CARED that our children behaved in public or when visiting a friend.
We CARED that our children were respectful to adults when corrected.
We CARED that our children followed the rules and expectations when in someone else's home.
We CARED that our children knew to follow the family rules, even in someone else's home.
Because they knew we cared, our friends cared enough to support us in the raising of our children.
For example: we had a rule that they were NOT allowed to use a computer when playing at a friend's house, for two reasons. 1) We didn't allow our children on a computer without a filter and 2) They were there to PLAY with their friend, not play on the computer.
We had a rule that they were not allowed to watch a dvd they'd never seen before at a friend's house without calling home for permission.
Our friends would call us and say "I suggested that your son and mine play on the computer and your son told me he wasn't allowed" or a friend would call and say "I wanted to let the kids watch such-and-such a movie but your son said he needs permission from you..."
Friends Back You Up
We appreciated having friends that backed us up. We appreciated having friends who supported our values, even if our boundaries were drawn tighter than theirs.
We appreciated friends who could support our values in front of our children by not being afraid to correct our children when necessary if we weren't around, and sometimes even if we were!
Our kids knew that we talked to other parents and they talked to us. We knew what values and boundaries our friends had as well.
Some of my friends' children had looser boundaries than our kids did. Some even had stricter boundaries. I know....hard to believe, huh? ;)
But we all supported one another as best we could by not tearing one another down in front of our children, and instead made sure we built one another up.
If my child privately complained because a visiting friend's parent wouldn't allow his friend to ride his bike off the sidewalk, or watch a G-rated movie, or eat potato chips, etc., I backed that parent up.
I explained that they were making the best choice for the child because they knew their child best, and it was a decision made of love and often, much prayer.
By strengthening my friend's boundaries and expectations for their child, I strengthened my own boundaries and reaffirmed my own commitment to raising our children to the best of my ability.
I am sure my kids probably thought they had a LOT of moms and dads growing up! ;)
Friends Love Your Children Like Their Own
The awesome thing is that these friendships mean SO MUCH to my kids today! Something painful happened years ago involving a friend of mine and my then-25 year old son cried over it. Through tears he said "She was like a second mom to me all the years I was growing up."
Recently, the father of my son's friend dropped by our church for a visit. Our children were thrilled to see him as they hadn't seen him in awhile.
When the kids were growing up, our male friends teased our boys and kept them from taking themselves too seriously and encouraged them to be brave. Our female friends reminded them to use their manners and encouraged them to be gentle.
Friends Become Like Family
Sometimes friends become your family. They become the support and the encouragement that you need to keep plugging along, and the balance that you measure against to make sure you aren't "losing" it.
They become a blessing not only to you, but to your children as well! Choose your friends wisely, for they are a reflection of YOU!
Walk with the wise and become wise; associate with fools and get in trouble.
(Proverbs 13:20, NLT)
What are

you

doing or going to do today to make your home sing? Please go here for instructions and/or ideas and come back here
to link up to join us today!
If you don't want to miss any blogs posts, you can subscribe
by
RSS,
Bloglovin,
Feedly
Facebook or Email
I'd love to connect with you
I am
linking up
up to these linky parties: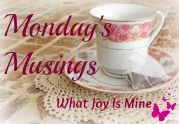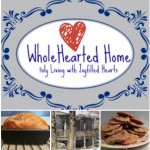 \