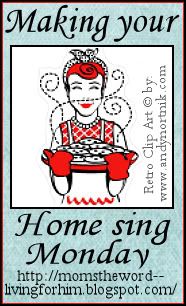 Welcome to the Making Your Home Sing Monday linky party! Every day you are doing something to make your house into a home for yourself and your family (if you have one).
My point with each Monday post is, what are YOU doing or going to do today to make your home sing? It can be an attitude or an action. So have fun, do some blog hopping, and link up!
Thanks!
Topics can include marriage, parenting, encouraging women, organization, cleaning, saving money, our behavior and attitudes, homemaking, homeschooling, recipes.....the opportunities are endless.
Note: We
had
116
linkups last week! You guys are awesomely amazing and amazingly awesome! Don't forget to visit one another and try to leave a comment
on at least one blog to encourage someone today! :)
On
the left sidebar (down towards the bottom) is the "Making Your Home Sing! Monday" button which I'd love for you to grab and paste into your post! It is a "no-follow" button.
I always say that summer is my favorite season but I forgot how much I love spring. Don't you?
I love how the trees start to grow their leaves again and green up, and daffodils, tulips and other spring plants pop up in all their glorious beauty!
I also love the ability to open the windows and I love the sunshine (when it's not raining April showers to bring May flowers.....).
The days are getting longer which means I can go to the store at 7 pm at night if I need to and not be going in the dark.
The days always seem longer in springtime.
Because of this, I have to plan my days well. Otherwise, they will just slip away from me in "playtime" or in vastly underestimating how much time I really have for projects, etc.
Darkness falling has always been a cue that night is coming on. During spring and summer it is easy for me to lose my sense of time as I work away at something (or play away at something) and I have been known to be totally shocked when it's dinner time and I have nothing to show for it.
I pay close attention during spring time. I set a timer as a reminder so I don't get carried away. I start dinner earlier and take my cue from the time on the clock and not what's happening outside the window.
I take a good look at my cleaning routine and see if anything needs to change, and I try to give the house a good cleaning! I also rearrange my furniture and/or just change up my decor and lighten it up for spring and summer.
Springtime always seems to be filled with hope and new beginnings! Springtime is awesome! Open those windows wide and let in some fresh air and make your home sing today!
What are

you

doing or going to do today to make your home sing? Please go here for instructions and/or ideas and come back here
to link up to join us today!
If you don't want to miss any blogs posts, you can subscribe
by
RSS,
Bloglovin,
Feedly
Facebook or Email
I'd love to connect with you