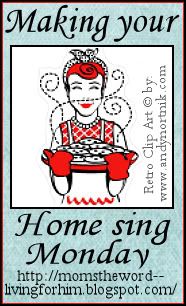 Welcome to the Making Your Home Sing Monday linky party! Every day you are doing something to make your house into a home for yourself and your family (if you have one).
My point with each Monday post is, what are YOU doing or going to do today to make your home sing? It can be an attitude or an action. So have fun, do some blog hopping, and link up!
Thanks!
Topics can include marriage, parenting, encouraging women, organization, cleaning, saving money, our behavior and attitudes, homemaking, homeschooling, recipes.....the opportunities are endless.
Note: We
had
121
linkups last week! You guys are awesomely amazing and amazingly awesome! Don't forget to visit one another and try to leave a comment
on at least one blog to encourage someone today! :)
On
the left sidebar (down towards the bottom) is the "Making Your Home Sing! Monday" button which I'd love for you to grab and paste into your post! It is a "no-follow" button.
During the month of March I usually put up my spring decor. I used to move the living room furniture around twice a year. Once in September (for fall & winter) and once during March (for spring & summer).
I would make it warm and cozy and fall it up a bit in September, moving the furniture away from the walls and closer together to make things more warm and intimate.
During the spring/summer I would lighten things up a bit and push the furniture back toward the walls to open up the floor space and make it seem bigger in there.
I haven't moved my furniture around in years, although I DO change my decor regularly.
I used to move furniture around quite often. I remember that my hubby used to come in through the door and temporarily drop his things down on a chair near the entrance.
One day he dropped his things down and was surprised when he heard them fall on the floor. He hadn't even noticed I'd moved the chair!
I like changing things up a bit around the house. I think it's fun!
I have a friend that doesn't like to change her decor. She prefers seeing the same things day after day, week after week, year after year.
Do you know what?
That's o.k.
Because, after all, SHE has to live there. I don't.
She does what works for her and I do what works for me.
Are you doing what works for YOU?
Do you know what works for you? Have you figured it out yet?
Sometimes we don't even know we like change until we change something.
So change something up this week, see how you like it, and make your home sing!
What are

you

doing or going to do today to make your home sing? Please go here for instructions and/or ideas and come back here
to link up to join us today!
If you don't want to miss any blogs posts, you can subscribe
by
RSS,
Bloglovin,
Feedly
Facebook or Email
I'd love to connect with you