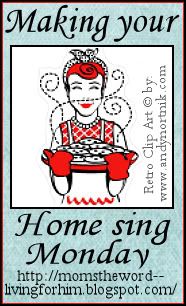 Welcome to the Making Your Home Sing Monday linky party! Every day you are doing something to make your house into a home for yourself and your family (if you have one).
My point with each Monday post is, what are YOU doing or going to do today to make your home sing? It can be an attitude or an action. So have fun, do some blog hopping, and link up!
Thanks!
Topics can include marriage, parenting, encouraging women, organization, cleaning, saving money, our behavior and attitudes, homemaking, homeschooling, recipes.....the opportunities are endless.
Note: We
had
128
linkups last week! I think it's a little low due to the holidays but I so appreciate those of you that linked up! You guys are awesomely amazing and amazingly awesome! Don't forget to visit one another and try to leave a comment
on at least one blog to encourage someone today! :)
On
the left sidebar (down towards the bottom) is the "Making Your Home Sing! Monday" button which I'd love for you to grab and paste into your post! It is a "no-follow" button.
I can't believe it's February already. It's FEBRUARY, y'all!
That means that spring is truly right around the corner.
Whoa.
Sometimes when you're in the midst of winter and snow and ice and cold it doesn't feel like spring will ever come, does it?
But it does. It always does.
I mean, it does unless you live in Antarctica or something and if you DO then you are on your own......
When we are going through a difficult winter in our lives, struggling with stress and pain and difficulty it feels like spring will never come.
Those are the times when we have to hang onto the promise of spring.
We have to hang onto the promise that the winter will thaw and the sun will come out and the flowers will bloom and new life will be everywhere.
We have to hang onto the hope that one day we will again walk in the sunshine and feel the warmth of it on our heads and feel the joy of it in our hearts, and know that spring has truly come.
Wouldn't it be silly of us to walk around in the warm springtime wearing parkas and winter boots, gloves and blankets and preparing as if we were facing a cold winter?
Spring is the time for shedding our winter.
Are you ready to shed YOUR winter?
Are you ready to let go of your pain, and hurts and frustrations and embrace the promise of spring?
Are you willing to embrace the newness of spring or do you still insist on holding onto the bitter cold of winter?
There's a lot of beauty out there in the world, even in winter. There's a lot of beauty out there in the world, even in the midst of pain and difficulties.
You can embrace the cold, or you can embrace the warmth. You can live in the promise of spring or the bitterness of winter.
I know that life isn't perfect. MY life certainly isn't perfect. But I have so many blessings and I miss seeing them when I'm only looking at the winter.
I also know that despite the things going on it my life, in YOUR life, we have an amazing God who loves us and truly has a plan that He is working in our lives.
Plans that we can trust, because He loves us. He brings the promise of spring each and every day.
So if you're in the middle of a bitter winter right now, remember the promise of spring and look for the beauty all around you. It's there.
Sometimes you might have to look a little harder for it, but it's there, like the beauty of the crocus blooming in the snow.
Let go of your winter and embrace the beauty of spring and make your home sing this week!
What are

you

doing or going to do today to make your home sing? Please go here for instructions and/or ideas and come back here
to link up to join us today!
If you don't want to miss any blogs posts, you can subscribe
by
RSS,
Bloglovin,
Feedly
Facebook or Email
I'd love to connect with you