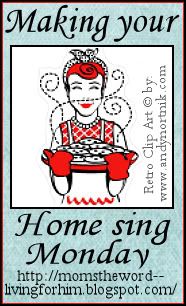 Welcome to the Making Your Home Sing Monday linky party! Every day you are doing something to make your house into a home for yourself and your family (if you have one).
My point with each Monday post is, what are YOU doing or going to do today to make your home sing? It can be an attitude or an action. So have fun, do some blog hopping, and link up!
Thanks!
Topics can include marriage, parenting, encouraging women, organization, cleaning, saving money, our behavior and attitudes, homemaking, homeschooling, recipes.....the opportunities are endless.
Note: We
had
137
linkups last week! I think it's a little low due to the holidays but I so appreciate those of you that linked up! You guys are awesomely amazing and amazingly awesome! Don't forget to visit one another and try to leave a comment
on at least one blog to encourage someone today! :)
On
the left sidebar (down towards the bottom) is the "Making Your Home Sing! Monday" button which I'd love for you to grab and paste into your post! It is a "no-follow" button.
I am fascinated with little houses. I mean those tiny little houses that you see pictures of that are reeeealllllly tiny.
One of my brothers and his family lived in a little trailer while they were building their home.
When I say trailer I mean the kind you hook up to the back of your truck and pull when you want to go camping. I am not talking a fifth wheel here.
I don't remember how big it was but it wasn't much bigger than my laundry room I don't think. ;)
Once they built their home on their property in the country, they showed my husband and I some neighboring property that was for sale.
Suddenly my husband I were discussing the possibility of selling our home, buying that property next door and living in our own trailer. We already HAD our own trailer and so we wouldn't even have had to buy one.
My brother and his wife were excited at the thought of having us nearby and offered their bathroom up for use if we bought the property (lol!) and I tried to imagine homeschooling, cooking, and just LIVING in that little trailer.
Ultimately we decided not to move there because it would have been a long commute for hubby.
But I still get fascinated, as I said, with small space living.
Maybe it's because I always wanted a doll house as a child, I don't know.
I have to tell you that I love big houses. The bigger the better.
But I just love how compact and functional those tiny houses are.
They make me want to HUG them.
What are

you

doing or going to do today to make your home sing? Please go here for instructions and/or ideas and come back here
to link up to join us today!
If you don't want to miss any blogs posts, you can subscribe
by
RSS,
Bloglovin,
Feedly
Facebook or Email
I'd love to connect with you