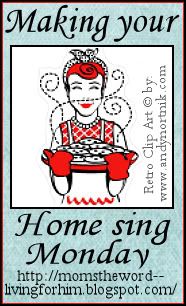 Welcome to the Making Your Home Sing Monday linky party! Every day you are doing something to make your house into a home for yourself and your family (if you have one).
My point with each Monday post is, what are YOU doing or going to do today to make your home sing? It can be an attitude or an action. So have fun, do some blog hopping, and link up!
Thanks!
Topics can include marriage, parenting, encouraging women, organization, cleaning, saving money, our behavior and attitudes, homemaking, homeschooling, recipes.....the opportunities are endless.
Note: We
had
125
linkups last week! You guys are awesomely amazing and amazingly awesome! Don't forget to visit one another and try to leave a comment
on at least one blog to encourage someone today! :)
On the left sidebar (down towards the bottom) is the "Making Your Home Sing! Monday" button which I'd love for you to grab and paste into your post! It is a "no-follow" button.
I had planned on telling you about our Disney trip but I totally forgot to work on my post about it.
This was a busy week for me. Every evening this past week (except for Thursday) I had taken up with some form of ministry. Some of it was children's ministry and some of it was women's ministry.
One evening was a purely social event that I promised I'd go to and o
ne night my family and I were helping to decorate the church.
I usually have 2-3 evenings a week where I am involved in some type of ministry but this last week was overkill, lol!
So I guarded Thursday evening with my life. When someone asked if they could meet with me this past week, I stated that I did NOT have an evening free (because I was trying to keep one night open so I could stay home). So we met during the morning instead.
Thursday night was nothing special. I can't even tell you what I did. But I can tell you that I did it at HOME! I am sure pajamas and popcorn were involved.
Sometimes we are just going to have a busier than normal week. Especially during the holiday season.
It's important to be present and HOME when we're home.
Sometimes we can go, go, go at such a fast pace that we forget to slow down when we're home.
I'm all for keeping the kitchen clean and staying on top of laundry and not getting behind in my cleaning.
But I'm also able to slow down and unwind when I need to. Even if it means putting off the laundry another day.
Even if it means forgetting to work on my blog post about our trip! ;)
What are

you

doing or going to do today to make your home sing? Please go here for instructions and/or ideas and come back here
to link up to join us today!
If you don't want to miss any blogs posts, you can subscribe
by
RSS,
Bloglovin,
Feedly
Facebook or Email
I'd love to connect with you