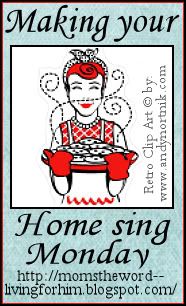 Welcome to the Making Your Home Sing Monday linky party! Every day you are doing something to make your house into a home for yourself and your family (if you have one).
My point with each Monday post is, what are YOU doing or going to do today to make your home sing? It can be an attitude or an action. So have fun, do some blog hopping, and link up!
Thanks!
Topics can include marriage, parenting, encouraging women, organization, cleaning, saving money, our behavior and attitudes, homemaking, homeschooling, recipes.....the opportunities are endless.
Note: We
had
122
linkups last week! You guys are awesomely amazing and amazingly awesome! Don't forget to visit one another and try to leave a comment
on at least one blog to encourage someone today! :)
On the left sidebar (down towards the bottom) is the "Making Your Home Sing! Monday" button which I'd love for you to grab and paste into your post! It is a "no-follow" button.
We are going on vacation soon to visit Mickey and Minnie. This time our whole family is going, including our oldest son and his wife. I am looking forward to some family time with all of us together.
We are blessed to have people staying in our home and taking care of our dogs while we are gone
Pets always add an extra measure of responsibility when you're going on vacation, so it's nice that we won't have to worry about them. I know that they will be much happier at home anyway. Plus they will enjoy being spoiled with all the extra attention I am sure.
Since I am gluten-free, soy-free and (mostly) dairy-free I am so thankful that Disney actually has many gluten-free options for me. That takes the stress out of eating there and I won't have to worry about getting sick.
I say "mostly" dairy-free because my doctor told me that I could occasionally have "real" cheese. Yum! I drink rice milk and use dairy-free options for sour cream, ice cream, and American cheese. But I do enjoy real cheese and even yogurt on occasion.
Whenever we go out of town I like to make sure that the house is clean before we leave. I like a clean house at ANY time but *especially* if I'm leaving town. Who wants to come home to a messy house? My daughter-in-law is the same way.
Things are always liable to get a little crazy when people start packing or get busy with last minute stuff. So I just make sure that everyone picks up after themselves so that the house stays neat when we leave. Especially since we often will have people living in our house when we're on vacation. It makes it more comfortable for them as well.
I will be scheduling the linky party for when I am gone so that we can continue to make our homes sing each week.
Y'all have a great week and I will be sure to tell Mickey and Minnie that you said hello! ;)
What are

you

doing or going to do today to make your home sing? Please go here for instructions and/or ideas and come back here
to link up to join us today!
If you don't want to miss any blogs posts, you can subscribe
by
RSS,
Bloglovin,
Feedly
Facebook or Email
I'd love to connect with you