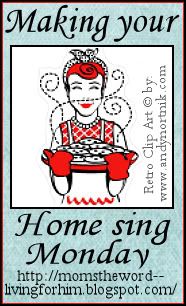 Welcome to the Making Your Home Sing Monday linky party! Every day you are doing something to make your house into a home for yourself and your family (if you have one).
My point with each Monday post is, what are YOU doing or going to do today to make your home sing? It can be an attitude or an action. So have fun, do some blog hopping, and link up!
Thanks!
Topics can include marriage, parenting, encouraging women, organization, cleaning, saving money, our behavior and attitudes, homemaking, homeschooling, recipes.....the opportunities are endless.
Note: We
had
137
linkups last week! You guys are awesomely amazing and amazingly awesome! Don't forget to visit one another and try to leave a comment
on at least one blog to encourage someone today! :)
On the left sidebar (down towards the bottom) is the "Making Your Home Sing! Monday" button which I'd love for you to grab and paste into your post! It is a "no-follow" button.
My schedule is all off. It is Saturday night as I write this but my mind is trying to tell me that it is Friday. Also, I confess that I STILL haven't unloaded the dishwasher yet.
Do you know how unusual that is for me?
Usually I unload it first thing in the morning or my son will do it. It IS his job but sometimes I will go ahead and do it. Today he worked all day, came home for five minutes and left again. So no help there.
I just pretty much laid around in my pajamas while Christmas threw up all over my house. I had my hubby drag out the Christmas boxes yesterday, put a few things up, and then lost my momentum/energy.
Today wasn't much better. I don't have an excuse.
Frankly, I blame the Christmas Hallmark movies. Not even kidding.
So now it's nearly 9 p.m. and I have a dishwasher to unload and a kitchen to clean up. The counters only have a couple of things on them so it will take less than ten minutes to unload and reload the dishwasher and get my kitchen clean. Still I put it off.
I do that sometimes. I do like a clean house and I prefer to go to bed with everything back in its place so the house is clean when I go to bed.
But I can also be my own worst enemy and put stuff off until I find myself cleaning the kitchen at midnight or 1 a.m because I can't stand waking up to a mess, or folding laundry or running around straightening up and putting stuff away, because I didn't do it earlier in the day.
I have even been known to allow things to pile up for a couple of days and then have to dig myself out. I don't do that very often though, because I hate playing catch up.
So I have got to whip this kitchen and house into shape before bedtime. It shouldn't take too long because I haven't let it get very far gone.
Even so, who wants to clean their house after 9 pm? I don't recommend it as a rule, but sometimes house rules just have to be broken in order to have peace of mind and sanity! ;)
So why am I still writing this post and not cleaning? I blame the internet.
Fair warning: if I DON'T stop procrastinating then things ARE going to pile up and I'm going to have a lot of cleaning to do and going to get grumpy. Just sayin.
I just remembered that I also have to update the church nursery calendar so I can hand it out to the nursery workers tomorrow. More work. Oh fun! ;)
I wonder what else I should do now that it's nearly 9 pm? Vacuum the inside of my car? Mop the floors? Regrout the bathroom? Finish putting out the Christmas decorations? Shave my legs? Groom the dog? Bake cookies?
I'm stalling. Can you tell I'm stalling?
Hmmmm.......baking cookies sounds like fun and a great way to stall. It also totally makes sense that you would want to make a room even
messier
right before you're planning on cleaning it, right?
Before I go, next week I will tell you about our fun trip to Disneyland and the awesome family we were blessed to spend time with! But for now, I think I'll go clean something. Sigh.
What are

you

doing or going to do today to make your home sing? Please go here for instructions and/or ideas and come back here
to link up to join us today!
If you don't want to miss any blogs posts, you can subscribe
by
RSS,
Bloglovin,
Feedly
Facebook or Email
I'd love to connect with you