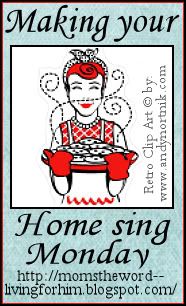 Welcome to the Making Your Home Sing Monday linky party! Every day you are doing something to make your house into a home for yourself and your family (if you have one).
My point with each Monday post is, what are YOU doing or going to do today to make your home sing? It can be an attitude or an action. So have fun, do some blog hopping, and link up!
Thanks!
Topics can include marriage, parenting, encouraging women, organization, cleaning, saving money, our behavior and attitudes, homemaking, homeschooling, recipes.....the opportunities are endless.
Note: We
had
114
linku ps last week! You guys are awesomely amazing and amazingly awesome! Don't forget to visit one another and try to leave a comment
on at least one blog to encourage someone today! :)
On the left sidebar (down towards the bottom) is the "Making Your Home Sing! Monday" button which I'd love for you to grab and paste into your post! It is a "no-follow" button.
My son called and asked if he could bring a friend home with him after work. A couple of his other friends wanted to come over too. It was 10:30 at night.
I said absolutely.
This happened, on occasion, with his older brother as well. Once we got a call at midnight asking "Hey mom, can I bring a bunch of friends over?"
We said absolutely.
Sometimes they still want to hang out after bowling or a movie and I'd rather they hang out at my house than in a bar, or out on the street somewhere.
There have been late nights where the boisterous teasing and loud laughter has made it hard to fall asleep.
But there are a lot of negative things these kids COULD be doing, and if they want to hang out at my house and make bacon at midnight, or play air hockey or a board game, watch a dvd or just sit around and chat......I'm all for it!
We've always wanted our kids to feel that their friends are welcome here. It has been a great way to get to know their friends over the years.
The only thing I insist on is that they pick up after themselves. They can eat the food, drink the pop, and use the bathrooms but by golly, they had better clean up after themselves! Because I am not waking up to pop cans and chip bags and dishes everywhere. ;)
I trained my kids pretty well and their friends that have frequented our house over the years know the "rules."
It's not unusual to see a 6'7" young man stoop down to put his dishes in my dishwasher. (I keep waiting for him to bump his head when he goes downstairs but he's used to ducking.)
There have also been a few times when we have said no, can't another parent host tonight? Sometimes I just have GOT to get my beauty sleep........ ;)
But tonight we said "absolutely!"
What about you? What are you saying "absolutely" to this week?
What are

you

doing or going to do today to make your home sing? Please go here for instructions and/or ideas and come back here
to link up to join us today!
If you don't want to miss any blogs posts, you can subscribe
by
RSS,
Bloglovin,
Feedly
Facebook or Email
I'd love to connect with you