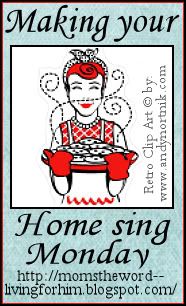 Welcome to the Making Your Home Sing Monday linky party! Every day you are doing something to make your house into a home for yourself and your family (if you have one).
My point with each Monday post is, what are YOU doing or going to do today to make your home sing? It can be an attitude or an action. So have fun, do some blog hopping, and link up!
Thanks!
Topics can include marriage, parenting, encouraging women, organization, cleaning, saving money, our behavior and attitudes, homemaking, homeschooling, recipes.....the opportunities are endless.
Note: We
had
107
linkups last week! You guys are awesomely amazing and amazingly awesome! Don't forget to visit one another and try to leave a comment
on at least one blog to encourage someone today! :)
On the left sidebar (down towards the bottom) is the "Making Your Home Sing! Monday" button which I'd love for you to grab and paste into your post! It is a "no-follow" button.
I can't believe it's October already.
September and October always seem to drag for me.
You wouldn't think that they would because I am usually so busy during those months with several church-related ministries. So you would assume that they would fly by.
But no, those months always seem to drag their feet.
I think it's because my routine is getting established again.
During the summer, I have some ministries that take a summer break. So I have more free time.
Once school starts, things kick back into high gear. Suddenly my days and evenings start to fill up. I have meetings and events and sometimes it just feels like go-go-go.
I have to get used to the schedule again, and until I do, time just seems to drag, as I said. Probably because I dread the first couple of weeks of losing my freedom and getting back into a routine and the slight "chaos" as we get back into it and iron out the details.
But along with the dread comes my desire to get back INTO a routine. So there you have it. Confused?
The time is flying by, people. Probably because my mom died in early September and so I was busy with phone calls, planning the service, taking care of paperwork, sorting through her things, and all the other tons of details that you have to take care of when someone dies. Not to mention grieving.
Because of mom's death I am currently only involved in two of the regular ministries that I do. One is children's Awana ministry that I do weekly and the other is serving in my regular nursery rotation (every 7 or 8 weeks).
I have let the other ministries that I do slide for now. Usually, I lead a women's Sunday School class every week, and I also lead a group for young moms one night a week. I am also head of the team that plans and hosts our women's ministry events.
So I have not started any of those other ministries that I ordinarily do back up yet. However, I do plan to!
Two of my friends have already taken it upon themselves to plan out and host our women's ministry event for November. I didn't have to do a thing! :)
Lest I sound too busy to you, keep in mind that I am a pastor's wife so I am pretty involved in our church.
If the year keeps flying by like this, it's gonna be summer sooner than you think!!!! ;)
What are

you

doing or going to do today to make your home sing? Please go here for instructions and/or ideas and come back here
to link up to join us today!
If you don't want to miss any blogs posts, you can subscribe
by
RSS,
Bloglovin,
Feedly
Facebook or Email
I'd love to connect with you