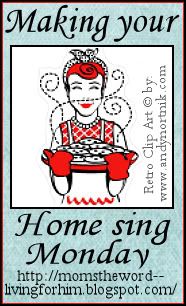 Welcome to the Making Your Home Sing I onday linky party! Every day you are doing something to make your house into a home for yourself and your family (if you have one).
My point with each Monday post is, what are YOU doing or going to do today to make your home sing? It can be an attitude or an action. So have fun, do some blog hopping, and link up!
Thanks!
Topics can include marriage, parenting, encouraging women, organization, cleaning, saving money, our behavior and attitudes, homemaking, homeschooling, recipes.....the opportunities are endless.
Note: We
had
105
linkups last week! You guys are awesomely amazing and amazingly awesome! Don't forget to visit one another and try to leave a comment
on at least one blog to encourage someone today! :)
On the left sidebar (down towards the bottom) is the "Making Your Home Sing! Monday" button which I'd love for you to grab and paste into your post! It is a "no-follow" button.
My hubby bought some new dog treats that our beagle just loves. I mean, he ADORES them. Apparently they are bomb diggity.
He adores them so much that he's downright annoying. Every night he starts to pace around when HE thinks it's "treat time" and the click-click of his nails as he paces, waiting, makes me wants to bury those dog treats in the backyard somewhere.
Except he'd probably find them, gorge himself on them, and then throw up all over my new couches.
He paces around afterward too. I think he paces afterward because he's hoping that my husband will forget that he gave him one and then accidentally give him another one. Hope springs eternal for that dog.

You know, I like chocolate just as much as the next person.
I don't eat it as often as I'd like because it doesn't like ME.
But back when chocolate and I were bff's, if I had to wait for someone to give it to me, I suppose I would start pacing too.
So maybe I can't blame him. Except I just wish he would learn to tell time. His body clock is about an hour off. It's too early, dog.
It is NOT that time and if he doesn't stop pacing I am going to glue his feet to the floor!
O.k., enough about my dog 's internal clock problems. Let's get this party started!
What are

you

doing or going to do today to make your home sing? Please go here for instructions and/or ideas and come back here
to link up to join us today!
If you don't want to miss any blogs posts, you can subscribe
by
RSS,
Bloglovin,
Feedly
Facebook or Email
I'd love to connect with you