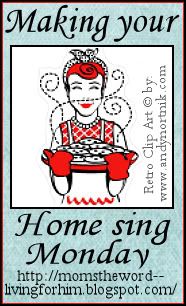 Welcome to the Making Your Home Sing Monday linky party! Every day you are doing something to make your house into a home for yourself and your family (if you have one).
My point with each Monday post is, what are YOU doing or going to do today to make your home sing? It can be an attitude or an action. So have fun, do some blog hopping, and link up!
Thanks!
Topics can include marriage, parenting, encouraging women, organization, cleaning, saving money, our behavior and attitudes, homemaking, homeschooling, recipes.....the opportunities are endless.
Note: We
had
110
linkups last week! You guys are awesomely amazing and amazingly awesome! Don't forget to visit one another and try to leave a comment
on at least one blog to encourage someone today! :)
On the left sidebar (down towards the bottom) is the "Making Your Home Sing! Monday" button which I'd love for you to grab and paste into your post! It is a "no-follow" button.
My mom went home to be with Jesus last Friday. In fact, I had just finished writing last week's linky party post when I got the phone call.
She had been ill for five months and in and out of the hospital. We nearly lost her a few times.
During the first few months of her illness she was mostly unable to talk with us and sometimes didn't know who we were and, at one point in July, was given two hours to live. So we loved on her and family came from all over and we said our goodbyes that night.
Then she had an amazing God-given recovery and she was able to talk with us again and knew who we were and able to give hugs and say "I love you" and have conversations with us for two whole months before she passed away.
We consider those last two months with her as bonus months, since she was on the brink of death and the Lord brought her back to us.
Many years ago my mom asked that I keep her journals after she was gone. She asked me to read through them and one day, I will. Believe me, there are a LOT of them so it will take awhile. ;)
At the time, the journals seemed like a "curse" because I don't like a lot of clutter and I didn't really want to store them. As I got older I realized what a treasure they would be. And they are.
I still can't believe she's gone but I know that she is with the Lord and also with my dad, and she's happy and healthy and able to breathe and run around! And one day, I will see her and my dad again when God calls me home. And, more importantly, I will see my Lord and Savior! :)
My mom set an amazing godly example for me as a wife, as a mom, and as a woman and I am thankful that the Lord chose her to be my mom!
What are

you

doing or going to do today to make your home sing? Please go here for instructions and/or ideas and come back here
to link up to join us today!
If you don't want to miss any blogs posts, you can subscribe
by
RSS,
Bloglovin,
Feedly
Facebook or Email
I'd love to connect with you