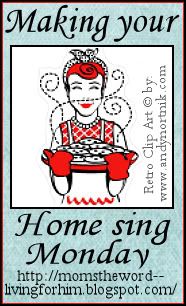 Welcome to the Making Your Home Sing Monday linky party! Every day you are doing something to make your house into a home for yourself and your family (if you have one).
My point with each Monday post is, what are YOU doing or going to do today to make your home sing? It can be an attitude or an action. So have fun, do some blog hopping, and link up!
Thanks!
Topics can include marriage, parenting, encouraging women, organization, cleaning, saving money, our behavior and attitudes, homemaking, homeschooling, recipes.....the opportunities are endless.
Note: We
had
110
linkups last week! You guys are awesomely amazing and amazingly awesome! Don't forget to visit one another and try to leave a comment
on at least one blog to encourage someone today! :)
On the left sidebar (down towards the bottom) is the "Making Your Home Sing! Monday" button which I'd love for you to grab and paste into your post! It is a "no-follow" button.
Today was my mom's memorial service (as I write this). You can imagine how tired I am! ;)
My mom would have loved the service, but mostly she would have loved seeing all the family together. My family and I were talking about how it took an event like this for everyone to drive over or fly in from out of state.
It's so easy to grow apart when the kids grow up and move away. Some families are really good at keeping in touch and having get togethers. We're not really one of them.
Over the years I have had one sibling fighting severe heart disease and open-heart surgery (twice), and another sibling fighting cancer (four times), and as their health has declined, so has their ability to be able to get through a whole day without needing some very long naps.
So big family reunions are difficult for them, not to mention the traveling to get there (they both live several hours from me). So there have been things they have missed due to their health and not being able to make the trip. But they were able to make the trip today!
There are other ways to keep in touch with family when you can't be there in person. The phone still works! And you can even Skype. Snail mail works too, as well as email. There's probably other stuff out that that I haven't even heard of yet.
I keep in touch with my siblings mostly through phone calls. But we also text (well, some of us do). Texting is kind of hard and slow for me, but I like it. It's just painful for others to watch me text, lol! ;)
I can't get ANY of my siblings on facebook. Believe me, I have tried. I have one sister-in-law who is on there, but can't get anybody else.
I don't have one sibling that lives in the same town as I. They all live anywhere from an hour to several hours away. One even lives an airplane ride away! ;)
So how do you keep in touch with YOUR siblings? What special things do you do to stay connected?
What are

you

doing or going to do today to make your home sing? Please go here for instructions and/or ideas and come back here
to link up to join us today!
If you don't want to miss any blogs posts, you can subscribe
by
RSS,
Bloglovin,
Feedly
Facebook or Email
I'd love to connect with you