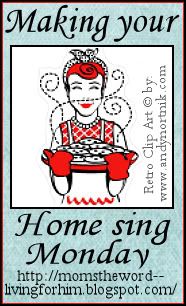 Welcome to the Making Your Home Sing Monday linky party! Every day you are doing something to make your house into a home for yourself and your family (if you have one).
My point with each Monday post is, what are YOU doing or going to do today to make your home sing? It can be an attitude or an action. So have fun, do some blog hopping, and link up!
Thanks!
Topics can include marriage, parenting, encouraging women, organization, cleaning, saving money, our behavior and attitudes, homemaking, homeschooling, recipes.....the opportunities are endless.
Note: We
had
108
linkups last week! You guys are awesomely amazing and amazingly awesome! Don't forget to visit one another and try to leave a comment
on at least one blog to encourage someone today! :)
On the left sidebar (down towards the bottom) is the "Making Your Home Sing! Monday" button which I'd love for you to grab and paste into your post! It is a "no-follow" button.
Last Monday's post I mentioned that I was going into a busy week.
I said that I was going into my week with a list and a plan.
"But having a plan is important too, because it puts you in the driver's seat. You may not always be in control of the vehicle, but you'll have your hand on the wheel! You'll also have a purpose, a destination, and a plan of how you'll get there."
Too bad I didn't pay attention to them.
I managed to get a lot of things done that I had already committed to. Our church had a big children's ministry event that I had committed to, and so I helped prep for that the day before and then helped run it the next day.
I managed to run errands, make phone calls, and on a couple of days I helped some people that I had promised to help or kept appointments that I had made .
I also made sure that I visited my mom. I even fed my family occasionally. ;)
What I didn't do was work my plan. I didn't even glance at it.
When I was home I managed to do the laundry, make the meals, and clean up the kitchen after the meals. These were NOT on my plan because they are just sort of expected.
I even managed to clean one of the bathrooms. ONE.
During the week, I made sure that the main living areas were picked up and neat.
I vacuumed and, as I said, I only cleaned one bathroom.
I did not dust. I did not vacuum downstairs - only upstairs.
I mopped the kitchen floor and one bathroom floor, but did not mop the entry hall floor or the other floors.
In short, I did what I could and what I had

time

and

energy

for, and I let everything else go.
Sometimes we get tired after a long day, and maybe we just need to rest.
I made sure that my family had clean clothes to wear, food to eat, and ONE oasis of a bathroom to retreat to. ;)
And really.....that's all we needed!
Although I got a lot done, I still didn't get to work my plan. So a lot of things that I WANTED to do had to be let go in order to do the things that I NEEDED to do.
Sometimes I can get over ambitious with my plans, and I suspect that you can too.
Some of us need a plan because we need to know when to start. And some of us need a plan because we need to know when to stop.
In my case, my body told me it was time to stop.
This will be another busy week. I may select one small "want" a day that I desire to accomplish. And I might not.
Not gonna worry about it. Just gonna make sure that the needs get done, and if I have time for the wants then that would be awesome. If not, there's always next week. ;)
What are

you

doing or going to do today to make your home sing? Please go here for instructions and/or ideas and come back here
to link up to join us today!
If you don't want to miss any blogs posts, you can subscribe
by
RSS,
Bloglovin,
Feedly
Facebook or Email
I'd love to connect with you