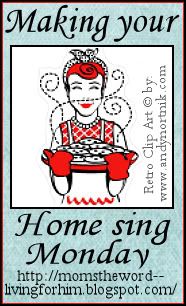 Welcome to the Making Your Home Sing Monday linky party! Every day you are doing something to make your house into a home for yourself and your family (if you have one).
My point with each Monday post is, what are YOU doing or going to do today to make your home sing? It can be an attitude or an action. So have fun, do some blog hopping, and link up!
Thanks!
Topics can include marriage, parenting, encouraging women, organization, cleaning, saving money, our behavior and attitudes, homemaking, homeschooling, recipes.....the opportunities are endless.
Note: We
had
119
linkups last week! You guys are awesomely amazing and amazingly awesome! Don't forget to visit one another and try to leave a comment
on at least one blog to encourage someone today! :)
On the left sidebar (down towards the bottom) is the "Making Your Home Sing! Monday" button which I'd love for you to grab and paste into your post! It is a "no-follow" button.
I hate to be the one to point it out to you but summer is nearly at an end.
Actually, for some of you summer IS at an end because your children are back in school.
I have one week left of summer and then all of my school-year church ministries start up as well as my after-school caregiving, so I am going to be much busier.
The only thing I am ready to have end is the hot weather. I am so OVER it.
So I say bring on the fall because I am ready for some cooler weather.
I just wish we could bring on the fall without all the fall-related activities. I am not yet ready to have my schedule ramp up.
My mind and body are still on summer time.
Plus, my summer was VERY busy and not very relaxing due to my mom's illness (and nearly dying), my two months of physical therapy for my back, and some other things that happened.
But I am very thankful to the Lord that my mom is still with us, and I cherish every moment I get to spend with her as we almost lost her, as I said.
Summer isn't always relaxing, even though we often have this hope and expectation that it will be.
I suppose we get that from our childhood, when we expect summer to be just one big playtime.
So then we carry that expectation into adulthood and sometimes summer can be a let-down.
But I still love summer because......hello, sunshine and the days get longer! And I can wear shorts! And flip flops! And it doesn't rain for awhile.
Except now, as I said, I am sick of the heat and want some cooler weather. I just want cooler weather with nothing on my schedule.......and days and days of absolutely nothing to do. Wouldn't that be nice?
I suppose I would get bored, but it might be kind of nice! ;) Oh well!
On the other hand, fall means cooler weather, rain, the leaves changing colors, and days where sometimes the only thing you want to do is curl up with a good book.
Hmmmm, fall may not be so bad after all!
What are

you

doing or going to do today to make your home sing? Please go here for instructions and/or ideas and come back here
to link up to join us today!
If you don't want to miss any blogs posts, you can subscribe
by
RSS,
Bloglovin,
Feedly
Facebook or Email
I'd love to connect with you