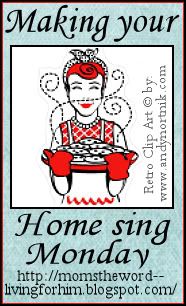 Welcome to the Making Your Home Sing Monday linky party! Every day you are doing something to make your house into a home for yourself and your family (if you have one).
My point with each Monday post is, what are YOU doing or going to do today to make your home sing? It can be an attitude or an action. So have fun, do some blog hopping, and link up!
Thanks!
Topics can include marriage, parenting, encouraging women, organization, cleaning, saving money, our behavior and attitudes, homemaking, homeschooling, recipes.....the opportunities are endless.
Note: We
had
106
linkups last week! You guys are awesomely amazing and amazingly awesome! Don't forget to visit one another and try to leave a comment
on at least one blog to encourage someone today! :)
On the left sidebar (down towards the bottom) is the "Making Your Home Sing! Monday" button which I'd love for you to grab and paste into your post! It is a "no-follow" button.
Last week I had BIG plans to get stuff done around here. I had lists of things that needed doing and projects I wanted to work on.
I was even excited when last Monday rolled around because I had a plan.
Then, as you know often happens, God......and life.....had other plans.
The week looked fairly free at the beginning. I only had one dentist appointment that week, and also had an appointment to get my allergy shot on another day. My schedule was wide open.
So far so good.
Things started popping up, a friend needed help with something, one of my sons needed help with something else, another friend had a situation with her daughter and we spent hours dealing with it (some of that at urgent care), I had to drive someone somewhere......one thing after another.
My days took on a life of their own.
One day I left at 9 a.m. and didn't get home until 6 p.m. And
THAT
was the day that I originally thought I'd be able to spend at home.
And then, of course, I am still visiting my mom in the nursing home. I basically go every day and have for months because she's been so ill. She is now slowly recovering and regaining her strength. (She is now out of the hospital, by the way. Praise God!)
Last week I was tired by the time evening rolled around and didn't feel like attacking my list very much.
But let the record show that ONE of the things that week involved ice cream with a friend and another involved a pedicure. Both things were unexpected and unplanned, but hey, if you call me up and say "Do you want to go for ice cream?" or "Do you want to go get a pedicure?" I am THERE for you.
So now we come to THIS week.
I have at least
one
thing every day this week.
Some of you are thinking "One thing every day? She only has
ONE
thing??????"
But some of these "one things" are going to take a few hours every day. As in three or four hours. At
least
. Some will be longer, some hopefully shorter.
I'm still going into it with a plan. And my list.
But I'm also going into it knowing that my plan and my list needed to be flexible. As long as the important things get done, the minor things can wait.
People are more important than plans, sometimes. Not always, because some people will suck the life out of you with their unimportant, never-ending "needs" that are really wants that they want YOU to meet or needs that they want YOU to take care of because
they
don't want to.
But having a plan is important too, because it puts you in the driver's seat. You may not always be in control of the vehicle, but you'll have your hand on the wheel! You'll also have a purpose, a destination, and a plan of how you'll get there.
So what things do YOU have to do this week? Do you have a plan?
What are

you

doing or going to do today to make your home sing? Please go here for instructions and/or ideas and come back here
to link up to join us today!
If you don't want to miss any blogs posts, you can subscribe
by
RSS,
Bloglovin,
Feedly
Facebook or Email
I'd love to connect with you