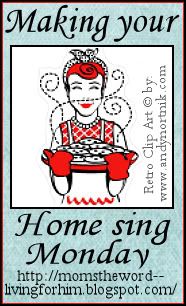 Welcome to the Making Your Home Sing Monday linky party! Every day you are doing something to make your house into a home for yourself and your family (if you have one).
My point with each Monday post is, what are YOU doing or going to do today to make your home sing? It can be an attitude or an action. So have fun, do some blog hopping, and link up!
Thanks!
Topics can include marriage, parenting, encouraging women, organization, cleaning, saving money, our behavior and attitudes, homemaking, homeschooling, recipes.....the opportunities are endless.
Note: We
had
110
linkups last week! You guys are awesomely amazing and amazingly awesome! Don't forget to visit one another and try to leave a comment
on at least one blog to encourage someone today! :)
On the left sidebar (down towards the bottom) is the "Making Your Home Sing! Monday" button which I'd love for you to grab and paste into your post! It is a "no-follow" button.
I am currently trying to decide what to wear to church tomorrow (today is Saturday as I type this).
I like to choose my clothes the night before so I don't spend Sunday morning desperately staring in my closet trying to find something to wear that doesn't need ironing, fits, is in the closet instead of the dirty clothes, and goes with something else I own.
Making that decision the night before takes away one less stress on Sunday morning.
We've been having this heat wave that I mentioned last week and it is going to, once again, be in the 90's tomorrow. That is a "heat wave" for my neck of the woods.
I am assuming that wearing a swim suit to church would probably be frowned upon, so am trying to come up with something that would be appropriate attire and yet cool at the same time.
As I said, a swimsuit came to mind.
However, I don't think that wearing a swimsuit in church would be considered proper attire for a pastor's wife no matter how hot she is. And by hot, I don't mean "hawt" hot......just oh-my-goodness-would-somebody-please-dump-a-bucket-of-ice-water-on-me-right-now hot.
However, until they decide to hold our services at the local pool I suppose I will have to find something else to wear.
So if you will excuse me, I am going to spend the next 16 years trying to decide what will be covered up enough for church and yet uncovered enough so that I won't expire from the heat.
As I said.......a swimsuit came to mind.
What are

you

doing or going to do today to make your home sing? Please go here for instructions and/or ideas and come back here
to link up to join us today!
If you don't want to miss any blogs posts, you can subscribe
by
RSS,
Bloglovin,
Feedly
Facebook or Email
I'd love to connect with you!