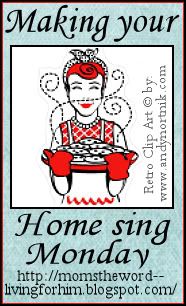 Welcome to the Making Your Home Sing Monday linky party! Every day you are doing something to make your house into a home for yourself and your family (if you have one).
My point with each Monday post is, what are YOU doing or going to do today to make your home sing? It can be an attitude or an action. So have fun, do some blog hopping, and link up!
Thanks!
Topics can include marriage, parenting, encouraging women, organization, cleaning, saving money, our behavior and attitudes, homemaking, homeschooling, recipes.....the opportunities are endless.
Note: We
had
135
linkups last week! You guys are awesomely amazing and amazingly awesome! Don't forget to visit one another and try to leave a comment
on at least one blog to encourage someone today! :)
On the left sidebar (down towards the bottom) is the "Making Your Home Sing! Monday" button which I'd love for you to grab and paste into your post! It is a "no-follow" button.
This week I had a project with a deadline. Does anybody love a deadline?
In the beginning it doesn't seem so bad because you know what the expectation is. You have lots of time, right?
I do not like to wait until the last minute and so I pretty much always start right in so that I can get it done. It stresses me out big time to wait until the last minute.
I have a son who used to say that he worked better under pressure. That may be so, but I reminded him that it's not fair to stress everyone ELSE out who doesn't work better that way.
All the stress he was feeling by waiting until the last minute was also passed onto the rest of us who had to live with him!
So for some, deadlines can be stressful. But what if we turn them into a POSITIVE thing!
What if you used a deadline to help you in your work around the home?
What if you gave yourself a deadline of when you were going to finish exercising? Finish the laundry? Read to your children? Clean up the kitchen or take a shower?
Go to bed?
By having a deadline you can then work backward towards a

start

time.
For example, if you know that you want to be DONE exercising by 11:00 a.m., and you only want to exercise for 30 minutes, you know that you need to START exercising by 10:30 a.m.
If you want to be in bed by 11 pm and it takes you an hour to go through your bedtime routine, then you need to start getting ready for bed by 10:00.
I will often get to bed later than I want to because of this. I will tell myself that I am going to be in bed by 11 p.m.
Then at 10:45 or 10:50 I will start getting ready for bed.
I will wash my face and brush my teeth and take my evening meds and then I suddenly remember that I have a load of laundry in the washer, and so I will transfer it over and start the dryer.
I will walk out into the kitchen and remember that I did not clean up the kitchen after dinner (like I usually do), and I know that I don't want to wake up to a messy kitchen, so now I'm cleaning the kitchen.
I will remember a few things I need to do in the morning so I make a to-list. I will realize I forgot to iron something for church in the morning (on the RARE occasions that I iron, lol!) and NOW I have to get out the iron and ironing board and iron it, because I know that I won't have time in the morning.
I will let the dogs out and then have trouble getting the beagle to come back in. Or I will remember that I didn't do my quiet time earlier that day.
I keep adding more things and pretty soon it's a half hour or hour later and I am
STILL
not in bed.
And you totally know what can happen if I dare to sit down on the computer for a "minute," don't you?
For me, an hour bedtime routine is very realistic because it seems like I am always finding little things that I need to wrap up before I go to bed. I can't just wait until the last minute and say "Well, now it's time to go to bed!" I want to have a smooth morning and it starts the night before!
When my kids were little they picked up their toys three times a day: before lunch, before dinner, and before bed.
Those three daily deadlines helped keep our home from being overrun with toys. It also made picking up their toys easier for
them
because there weren't so many toys in circulation.
I had a deadline of 7:00 p.m. for a
whole house pickup
, in which everyone spent 15 minutes running around picking up their things and straightening up the house. Because of this deadline, my house got picked up every night before bed. Also, due to other "rules" and
habits
I had previously established, the pickup only took fifteen minutes.
Take a look at the benchmarks of your day: dishes, meals, cleaning, exercising, quiet times, play times, etc. In other words, things that need to happen but maybe AREN'T happening as often or as timely as you would like.
Set some deadline times for each activity, and then work yourself backward to a
STARTING
time. You don't have to be horribly strict about it. Maybe you don't want to finish exercising until around 3:00 or 4:00 p.m., but at least you'll know that 3:00 is your absolute
latest
deadline for starting to exercise.
Having deadlines do not have to be a source of stress! They can be a source of comfort because you know that you are staying on top of your priorities and accomplishing what needs to be done in order to run your home more smoothly, and you aren't letting things slip through the cracks.
You can make a bedtime story with your children a
priority
by setting a deadline. This way you aren't apt to let it be put off yet
another
day by replacing it with something of less importance (such as facebook or blogland!) ;)
Make deadlines work for you and make your home sing this week!
What are

you

doing or going to do today to make your home sing? Please go here for instructions and/or ideas and come back here
to link up to join us today!
If you don't want to miss any blogs posts, you can subscribe
by
RSS,
Bloglovin,
Feedly
Facebook or Email
I'd love to connect with you!
I am linking
up to these linky parties: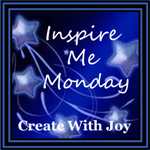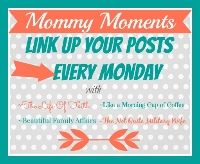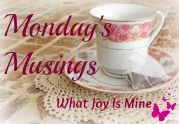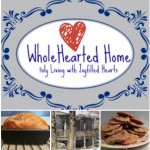 \