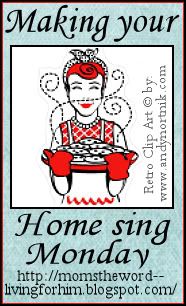 Welcome to the Making Your Home Sing Monday linky party! Every day you are doing something to make your house into a home for yourself and your family (if you have one).
My point with each Monday post is, what are YOU doing or going to do today to make your home sing? It can be an attitude or an action. So have fun, do some blog hopping, and link up!
Thanks!
Topics can include marriage, parenting, encouraging women, organization, cleaning, saving money, our behavior and attitudes, homemaking, homeschooling, recipes.....the opportunities are endless.
Note: We
had
118
linkups last week! You guys are awesomely amazing and amazingly awesome! Don't forget to visit one another and try to leave a comment
on at least one blog to encourage someone today! :)
On the left sidebar (down towards the bottom) is the "Making Your Home Sing! Monday" button which I'd love for you to grab and paste into your post! It is a "no-follow" button.
We have been having a heat wave in my area. Actually, depending on where you live you are probably having record-breaking temperatures too.
We don't have central air-conditioning but hubby took pity on me and brought an a/c. It's only good for one room but I am SO thankful for it.
Especially since we're going to have more record-breaking temps this next week. I have to admit that I am already tired of summer and it's barely begun! ;)
I've been trying to convince myself that it's really not that hot out, but no matter what my mind tells me my body tells me something different.
Too hot to sit at the computer, too hot to go anywhere or do anything.
But the way I figure it, no matter how miserably hot it is outside and unusually warm inside (and let's not forget the humidity), I don't have to sit there and dwell on it and whine about it all day.
It kind of makes me think about how much "heat" trials and difficulties can add to our lives. God uses those difficulties to grow us, and build us, and make us more like Him.
I figure if I am going to go through something difficult ANYWAY, I would rather learn from it, and grow from it, and learn to trust my God through it.
I'd rather go through it with God's grace rather than be dragged through it kicking and screaming.
Even in the midst of the miserably hot fires of difficulties in our lives, we can always find SOMETHING to be thankful for. Even if we are only thankful that it's not worse!
So whether you are feeling the heat of the sun or the heat and stress of pain or trials in your life, try and stay cool by remembering to be thankful for the blessings that you DO have!
A thankful, cheerful heart will go a long way and help you make your home sing this week.
What are

you

doing or going to do today to make your home sing? Please go here for instructions and/or ideas and come back here
to link up to join us today!
If you don't want to miss any blogs posts, you can subscribe
by
RSS,
Bloglovin,
Feedly
Facebook or Email
I'd love to connect with you!