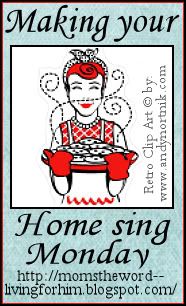 Welcome to the Making Your Home Sing Monday linky party! Every day you are doing something to make your house into a home for yourself and your family (if you have one).
My point with each Monday post is, what are YOU doing or going to do today to make your home sing? It can be an attitude or an action. So have fun, do some blog hopping, and link up!
Thanks!
Topics can include marriage, parenting, encouraging women, organization, cleaning, saving money, our behavior and attitudes, homemaking, homeschooling, recipes.....the opportunities are endless.
Note: We
had
111
linkups last week! You guys are awesomely amazing and amazingly awesome! Don't forget to visit one another and try to leave a comment
on at least one blog to encourage someone today! :)
On the left sidebar (down towards the bottom) is the "Making Your Home Sing! Monday" button which I'd love for you to grab and paste into your post! It is a "no-follow" button.
It was a busy weekend for the youth in our church. They participated in the
30 Hour Famine
event, which means they fasted for 30 hours and raised money to fight hunger. This is a World Vision event and it's amazing to see the effect that it has on the youth (and adult leaders) and how committed they are!
They turn over their cell phones and start fasting at noon on Friday, and then they break the fast Saturday night. They stay at the church Friday night and all day Saturday until after their break-the-fast meal.
They play games that are famine related and that are fun and challenging and also thought provoking. They have discussions, listen to a great speaker, awesome worship, and they spend several hours doing a service project on Saturday morning.
Anyway, my family all participates in the Famine but I had a bad week with my back this week, so I spent a large part of the Famine at my home, lying down on and off.
Seems if I sit too long or am on my feet for too long without lying down to rest, I get a really bad backache. My physical therapist and I are working on this problem, lol! My chiropractor gave up on me I think, haha. Anyway, my regular doctor didn't like the progress I was making and sent me to PT. And now you know as much as I do. ;)
Usually during Famine weekend I am EXHAUSTED, but this time I don't feel that way, obviously because of all the lying down I was doing. There's a lot to be said for lying down (minus the back pain, of course)!
So, I am going to assume that most of you are probably borderline exhausted and haven't slept since you were twelve. So go take a nap, lie down with your eyes shut for 10 or 20 minutes (or however long you can spare), or just lie down with them open and read a book, watch t.v., or stare out the window at your neighbor......I don't care.
Just get off your feet (set a timer!) for a few minutes and recharge your energy and make your home sing this week!
What are

you

doing or going to do today to make your home sing? Please go here for instructions and/or ideas and come back here
to link up to join us today!
If you don't want to miss any blogs posts, you can subscribe
by
RSS,
Bloglovin,
Feedly
Facebook or Email
I'd love to connect with you!