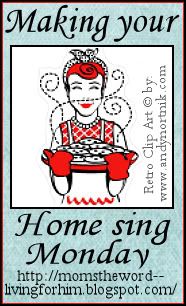 Welcome to the Making Your Home Sing Monday linky party! Every day you are doing something to make your house into a home for yourself and your family (if you have one).
My point with each Monday post is, what are YOU doing or going to do today to make your home sing? It can be an attitude or an action. So have fun, do some blog hopping, and link up!
Thanks!
Topics can include marriage, parenting, encouraging women, organization, cleaning, saving money, our behavior and attitudes, homemaking, homeschooling, recipes.....the opportunities are endless.
Note: We
had
114
linkups last week! You guys are awesomely amazing and amazingly awesome! Don't forget to visit one another and try to leave a comment
on at least one blog to encourage someone today! :)
On the left sidebar (down towards the bottom) is the "Making Your Home Sing! Monday" button which I'd love for you to grab and paste into your post! It is a "no-follow" button.
I was going to have a "real" post for today!
Then I waited until the last day to write it.
Then I remembered I was taking my mom to lunch that day.
Then my mom wanted to go shopping afterward and so, between that and lunch and the commute (and helping her out with stuff once I brought her back home), I didn't get to my home until six hours later.
Then I remembered that I hadn't finished watching the movie I rented.
Then I remembered that I forgot to write my post for the linky party.
Then I remembered that I was supposed to set my clock ahead and so I just LOST an hour.
Then I remembered that I have church tomorrow and shouldn't stay up too late.
Then I remembered that I can schedule the post and go to bed. The end. Except not really.
What are

you

doing or going to do today to make your home sing? Please go here for instructions and/or ideas and come back here
to link up to join us today!
If you don't want to miss any blogs posts, you can subscribe
by
RSS,
Bloglovin,
Feedly
Facebook or Email
I'd love to connect with you!