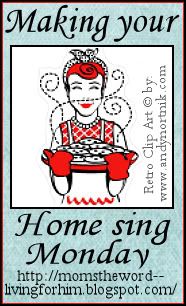 Welcome to the Making Your Home Sing Monday linky party! Every day you are doing something to make your house into a home for yourself and your family (if you have one).
My point with each Monday post is, what are YOU doing or going to do today to make your home sing? It can be an attitude or an action. So have fun, do some blog hopping, and link up!
Thanks!
Topics can include marriage, parenting, encouraging women, organization, cleaning, saving money, our behavior and attitudes, homemaking, homeschooling, recipes.....the opportunities are endless.
Note: We
had
98
linkups last week! You guys are awesomely amazing and amazingly awesome! Don't forget to visit one another and try to leave a comment
on at least one blog to encourage someone today! :)
On the left sidebar (down towards the bottom) is the "Making Your Home Sing! Monday" button which I'd love for you to grab and paste into your post! It is a "no-follow" button.
It is March already. MARCH!!!!!!
How is that possible?
While many places are suffering from record lows and record snows, we've actually had a pretty mild winter where I live.
In fact, this last week we've had some nice, sunny days. Well, nice for us. California or Florida we are not. But this has been a pretty calm February.
Yesterday was sunny but I still felt like I wanted to wear a coat. Summer has not yet arrived so I am gonna keep my coat nearby.
But spring is on its way.
I love snow, but it seems like some of you are having WAY too much of it. Even though our winter has been mild I am ready for spring.
Are you?
What do you love about spring?
I love when the cherry trees begin to bloom, and the birds come back and you can hear them chattering away, and flowers start blooming again, and things "green up" and the weather starts to warm up a bit.
I just love how "alive" everything seems. Back in my gardening days I eagerly awaited spring as I couldn't wait to get my hands in the dirt and do some planting and pruning.
I am over that now. ;)
But I still love spring. This week I will be changing some of my home accessories to bring a little spring into my home and lighten things up a bit and spread a little fun around the place.
What are YOU going to be doing to bring a little fun into YOUR home this week?
What are

you

doing or going to do today to make your home sing? Please go here for instructions and/or ideas and come back here
to link up to join us today!
If you don't want to miss any blogs posts, you can subscribe
by
RSS,
Bloglovin,
Feedly
Facebook or Email
I'd love to connect with you!