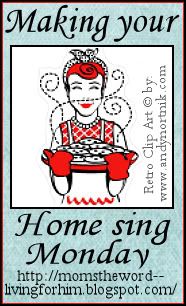 Welcome to the Making Your Home Sing Monday linky party! Every day you are doing something to make your house into a home for yourself and your family (if you have one).
My point with each Monday post is, what are YOU doing or going to do today to make your home sing? It can be an attitude or an action. So have fun, do some blog hopping, and link up!
Thanks!
Topics can include marriage, parenting, encouraging women, organization, cleaning, saving money, our behavior and attitudes, homemaking, homeschooling, recipes.....the opportunities are endless.
Note: We
had
115
linkups last week! You guys are awesomely amazing and amazingly awesome! Don't forget to visit one another and try to leave a comment
on at least one blog to encourage someone today! :)
On the left sidebar (down towards the bottom) is the "Making Your Home Sing! Monday" button which I'd love for you to grab and paste into your post! It is a "no-follow" button.
Last Saturday morning I woke up with a sore throat and my nose felt "funny." That is all the symptoms that I had,but I suggested that my husband not kiss me, just in case.
He said "I'm tempted to just pop a cold-eeze and just kiss you anyway." I ducked under his arms and strongly suggested that he take cover and stay far away from me, and suggested that he may want to consider moving to another country for a week or two. Maybe more.
Oh, sweet marital bliss and practicality.
Sunday I woke up and got up to get ready for church. As I walked around sneezing, hacking, blowing my nose (did I mention SNEEZING?) and making other attractive noises, I decided to stay home from church that day.
Hubby is the pastor and I sit in the front row because everyone knows that that is the BEST seat in the house, right?
I had visions of clearing my throat a million times, sneezing, blowing my nose to the point where all it did was let out a loud
HONK!!!!!
and generally making a spectacle of myself until someone (probably my husband) would yell "Oh enough already. Would someone please get this woman a
cough drop???
"
I am quite sure everyone would secretly thank me for not spreading germs nor would they probably appreciate that form of entertainment there. Some people just don't like geese, I guess. (If you don't get that, please read the previous paragraph. If you
STILL
don't get it....well.....sorry. My bad.)
Of course, I
could
have sat in the
back
row and thrown
spit wads
at my husband, the worship leader, the piano player (who also happens to be my son) and quite possibly thrown them at someone who decided to visit that day.
I am sure that would make them want to come back, don't you? I know it would make ME want to come back. Just for revenge, of course.
Then a few days after Sunday my nose decided that it was going to stop working. I mean, NOTHING was coming out or going in. Kind of like my bank account, only not really.
My coughing was pretty spectacular. I may or may not have coughed up a lung and maybe even a kidney. The really nice thing was that I did NOT have a fever. Otherwise I may have been tempted to set a world record.
Then my asthma decided to join the party. Always a GREAT time. You should always invite asthma to a party. Except not really.
I quite possibly might have had some deadly, foreign disease or maybe some horrible fever that came from some animal who brought it back from space and who now hates me.
I guess I'll have to wait and check with Dr. Google to be sure.
But for now, I am feeling much better. My nose is working again and let's just say that I may have caused a kleenex shortage at the local store. My throat is no longer sore. I am still coughing and my asthma refuses to go home but I will take it as I'm feeling better than I was a few days ago!
However, you may want to bleach or otherwise sterilize your keyboard before you leave here. I'll start the party while you're gone!
What are

you

doing or going to do today to make your home sing? Please go here for instructions and/or ideas and come back here
to link up to join us today!
If you don't want to miss any blogs posts, you can subscribe
by
RSS,
Bloglovin,
Feedly
Facebook or Email
I'd love to connect with you!