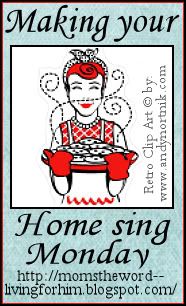 Welcome to the Making Your Home Sing Monday linky party! Every day you are doing something to make your house into a home for yourself and your family (if you have one).
My point with each Monday post is, what are YOU doing or going to do today to make your home sing? It can be an attitude or an action. So have fun, do some blog hopping, and link up!
Thanks!
Topics can include marriage, parenting, encouraging women, organization, cleaning, saving money, our behavior and attitudes, homemaking, homeschooling, recipes.....the opportunities are endless.
Note: We
had
125
linkups last week! You guys are awesomely amazing and amazingly awesome! Don't forget to visit one another and try to leave a comment
on at least one blog to encourage someone today! :)
On the left sidebar (down towards the bottom) is the "Making Your Home Sing! Monday" button which I'd love for you to grab and paste into your post! It is a "no-follow" button.
I had just finished a long phone conversation with my mom, in which we talked about several things. But one of the things we talked about was a specific difficult situation I was dealing.
After I hung up with my mom I turned to my husband and teasingly said "It's going to be so hard someday when my mom is gone. I'm going to have to talk to only YOU about stuff like that and you're going to have to just sit and listen and let me talk (and not try to fix it). And that will be hard as you're not so great at that."*
My husband looked at me with a smile and said "I can't be good at everything."
Wow. Truer words were never spoken.
How often have we wished for our husbands to say the perfect word at the perfect time? Expect that they will never make a mistake? Hope that they will never fail us?
How many times do we wish or expect that our spouses will meet our every need?
There is only ONE who can meet our every need, and it's not our husband.
Does your husband have areas in your marriage and parenting where he excels and just blesses your socks off, and yet there are other areas where he needs growth or just isn't "perfect?"
Do you often find yourself focusing on his weaknesses instead of his strengths? Are you focusing on the things he is not doing instead of focusing on the things he
IS
doing?
I remember once, when the kids were little, I walked by my husband's study and noticed how messy it was and it made me angry. As I went about my household duties I began to get angrier and angrier and soon I had built myself up into quite a temper.
I mean, after all, he KNEW how important it was to me to have a clean house. I wanted order in EVERY room in my home, so the least he could do was keep
his
study clean, right? If it was that important to me and if he loved me he'd keep it clean, right? At least, that's what I told myself.
But there's the problem:
I was quantifying love, thereby suggesting that he didn't love me if he didn't keep his study clean.
Really?
And, for the record, why do
I
get to decide how clean our home must be? He has to live in it too.
In my anger at the mess I had ceased to appreciate all the good qualities of my husband as I focused and directed my anger at that one messy room.
All the times he gassed up my car for me, changed diapers, was patient and loving and kind toward me, the times he played with the kids so that I could fix dinner in peace, chauffeured the kids around, worked hard at work and came home to his family, was quick to repair things that were broken, ran to the store the minute I asked without complaining, washed and waxed my car......
........all that was forgotten because his office was messy.........
Sometimes we expect our husbands to be good at
everything
. We might expect more from them than we expect from ourselves as we hold them to a higher standard.
We act like we expect him to be able to read our minds, and are disappointed when he can't. We get frustrated when he can't load the dishwasher as well as we can.
Your husband will not be good at everything. Neither will you. Neither will I.
Your husband won't be able to meet your every need because that's not what God has designed him to do. He is designed to take his place in your life, not God's place.
Don't expect your husband to fulfill God's role in your life.
Next time you start reflecting on your husband's negative qualities, take a long moment to reflect on, and be
thankful
for, his
positive
qualities. Remember,
he can't be good at everything.
Change your focus, make your marriage
AND
your home sing this week!
What are

you

doing or going to do today to make your home sing? Please go here for instructions and/or ideas and come back here
to link up to join us today!
*Note: Just wanted to add that I do talk with my hubby about difficult things. I was referring to those times when you just want to talk and talk and TALK,
ad nauseam,
about whatever is going on. Moms are good for those times! ;)
If you don't want to miss any blogs posts, you can subscribe
by
RSS,
Bloglovin,
Feedly
Facebook or Email
I'd love to connect with you!
I am
linking
up to these linky parties: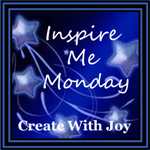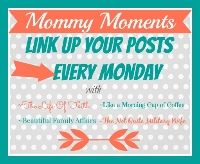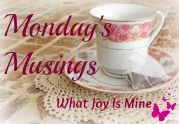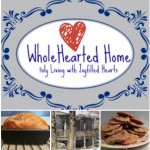 \