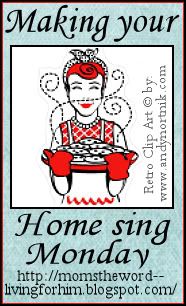 Welcome to the Making Your Home Sing Monday linky party! Every day you are doing something to make your house into a home for yourself and your family (if you have one).
My point with each Monday post is, what are YOU doing or going to do today to make your home sing? It can be an attitude or an action. So have fun, do some blog hopping, and link up!
Thanks!
Topics can include marriage, parenting, encouraging women, organization, cleaning, saving money, our behavior and attitudes, homemaking, homeschooling, recipes.....the opportunities are endless.
Note: We
had
124
linkups last week! You guys are awesomely amazing and amazingly awesome! Don't forget to visit one another and try to leave a comment
on at least one blog to encourage someone today! :)
On the left sidebar (down towards the bottom) is the "Making Your Home Sing! Monday" button which I'd love for you to grab and paste into your post! It is a "no-follow" button.
A
t
Thanksgiving, I wanted to make more room for people, so we removed a couple of things from our living room and pushed the rest of our furniture back against the walls.
Then we brought in a couple of tables and we all ate in the living room.
When I came up with the idea my husband and son were THRILLED.
Or not.
I didn't mind because I wasn't the one moving stuff, lol!
One thing I noticed was that the living room looked really big when we (as in they) moved a few things. Isn't it amazing how BIG a room looks when it's empty or partially empty?
I have a large living room anyway, but it REALLY looked big after we removed some stuff. And actually, all we did was remove two things.
TWO

THINGS!
It kind of makes you think, you know?
Now, granted, the two things we removed were the couch and the coffee table. If I had removed a plant and a book, it would not have made such a big deal obviously. But the principle remains the same.
Even SMALL things can make a huge impact in your life and in your home.
Look around you:
Where is your purse?

Where is your coat?

Do you have a dead plant staring you right in the face?

Do you have newspapers lying around?

How many shoes are lying by your front door or in a pile in the corner of your bedroom?

Do you have empty pop cans lying around?

Are there used napkins or tissues wadded up on the table or counter instead of in the garbage?

Are there dirty dishes within an arm's reach of you?

Is there a bag of chips that has been left out for several days now?

How many books or magazines are lying around and how many of them are you currently reading?

Any baskets of laundry nearby?

Can you sit on your couch or is it piled high with laundry?

Are there piles of cat or dog hair in the corners?

How much

STUFF do you have that doesn't have a home? Is it currently stacked on the floor, on a counter or on the table?
How long has it been there?
As I write this I am sitting on my couch. I look around me and I can see a laundry basket that has been on the chair for TWO whole days and I haven't folded it yet!!!!
I can see a magazine that I was reading earlier and left out. There's a bottle of water on the coffee table and my shoes AND my slippers are on the floor next to me.
There's also a box of tissues on the coffee table which does NOT belong there. My purse doesn't belong there either, but there it is.
Now granted, that's not a lot and it would only take a few minutes to straighten up the living room and return everything to their places.
But if I let this go for today and let things pile up day after day in every room in my home this week, I would have hours and HOURS of clean up to do at the end of the week.
I have done that. I have let things go in favor of working on a project, or an illness or injury and it is NOT fun to dig yourself out. I try not to do it as a rule but I can be tempted on occasion to let certain things slide.
So whatever chaos your home is in right now, you're not alone and there is hope! You can begin to change it for the better.
All you need to do is remember that the smallest change can sometimes have the biggest impact, so don't feel like you have to do everything at once.
Make your bed,unload and load the dishwasher again, throw away the used dental floss, vacuum up the dog hair, put your makeup away in the drawer, fold the laundry, etc. Don't get discouraged and keep moving toward progress.
Just do the "little" things today. Keep doing the little things, every day, and you will establish some very good habits that will make a huge impact and make your home sing!
What are

you

doing or going to do today to make your home sing? Please go here for instructions and/or ideas and come back here
to link up to join us today!
If you don't want to miss any blogs posts, you can subscribe
by
RSS,
Bloglovin,
Feedly
Facebook or Email
I'd love to connect with you!
I am
linking
up to these linky parties: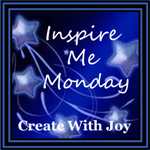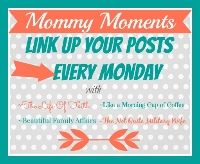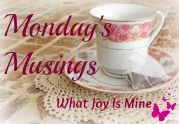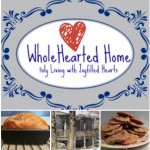 \