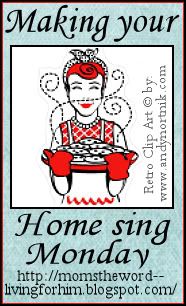 Welcome to the Making Your Home Sing Monday linky party! Every day you are doing something to make your house into a home for yourself and your family (if you have one).
My point with each Monday post is, what are YOU doing or going to do today to make your home sing? It can be an attitude or an action. So have fun, do some blog hopping, and link up!
Thanks!
Topics can include marriage, parenting, encouraging women, organization, cleaning, saving money, our behavior and attitudes, homemaking, homeschooling, recipes.....the opportunities are endless.
Note: We
had

115
linkups last week! You guys are awesomely amazing and amazingly awesome! Don't forget to visit one another and try to leave a comment
on at least one blog to encourage someone today! :)
On the left sidebar (down towards the bottom) is the "Making Your Home Sing! Monday" button which I'd love for you to grab and paste into your post! It is a "no-follow" button.
I had all sorts of plans to work on a blog post for this linky party, then I had to leave my house for most of yesterday and today (which will be yesterday by the time you read this).
We had pipes replaced on the inside of the house and I can't stay here when wood, sheetrock or spray spackling is flying around. It affects my asthma in a negative way.
So the down side is that I was away from home a lot. The up side is that I was away from home a lot.
I got to go out to lunch (without feeling guilty about it)
and go shopping for several hours
.
As a rule, I really hate shopping. I do have my moments where I love shopping for certain
things
. But, generally I am not one of those gals who can go to the mall and shop and shop for hours and just LOVE it. Nope.
Shopping gives me a headache.
Even as a teen I hated to go to the mall. Pretty sure my mom was thrilled about that.
Generally, I prefer to go to the store, find what I need, and get out. I don't like trying on clothes either.
What I really need is someone who looks just like me who will try on clothes for me. I need a twin. And not just
any
twin. A twin who loves to go shopping. Then SHE could try on all the clothes and I could see if I'd look good in them!
Let's just say that "let's go shopping" is not something you hear me say very often.
As you can imagine, I am VERY popular with all my friends and someone they gladly call whenever they want to go shopping.
Or not.
I also am pretty frugal and so I don't really like spending money. MY money anyway. I'll happily spend
yours
for you. Just sayin.
But I digress. So anyway, I killed time eating and shopping and occasionally gave dirty looks to people who drove like they own the road, which is basically what I do
every
day (minus the shopping).
So what did YOU do this weekend?
What are

you

doing or going to do today to make your home sing? Please go here for instructions and/or ideas and come back here
to link up to join us today!
Click here for more
A Day In The Life
(of a pastor's wife).
If you don't want to miss any blogs posts, you can subscribe
by
RSS,
Bloglovin,
Feedly
Facebook or Email
I'd love to connect with you!