Welcome to the Making Your Home Sing Monday linky party! Every day you are doing something to make your house into a home for yourself and your family (if you have one).
My point with each Monday post is, what are YOU doing or going to do today to make your home sing? It can be an attitude or an action. So have fun, do some blog hopping, and link up!
Thanks!
Topics can include marriage, parenting, encouraging women, organization, cleaning, saving money, our behavior and attitudes, homemaking, homeschooling, recipes.....the opportunities are endless.
Note: We
had
110
linkups last week! You guys are awesomely amazing and amazingly awesome! Don't forget to visit one another and try to leave a comment
on at least one blog to encourage someone today! :)
On the left sidebar (down towards the bottom) is the "Making Your Home Sing! Monday" button which I'd love for you to grab and paste into your post! It is a "no-follow" button.
I have been "entertaining" myself lately with doing little extra cleaning "missions" around the house.
This past week I've been doing the extra cleaning in the kitchen. I pulled the fridge out (hubby helped!) and cleaned behind it, cleaned the coils, and gave the inside and outside a very through cleaning.
I cleaned cupboards and the pantry and even cleaned the greasy stove hood filter. See?
Years ago we had used a small velcro strap on the fridge door to keep our toddlers out of it. After the kids got older we pulled off the strap but the sticky residue part of it was still stuck on the side of the door.
I never really tried hard to remove it because I didn't know that I COULD. I had tried to take it off with a minimal effort but it wouldn't come off.
So all those years it has remained on the door, an ugly eyesore that I eventually got used to.
Yesterday, I made a paste of baking soda and vinegar to clean the greasy stove hood, and I decided to try the mixture on the leftover velcro sticky stuff on the fridge.
I had to apply a little "elbow grease" but it worked and it eventually came off!
I had to ask myself, why didn't I try a little harder to remove it before? Instead, I put up with something ugly for

years

because I didn't think I had a choice, when all I really needed to do was work a little smarter and a little harder at getting rid of it.
What ugly thing are YOU putting up with today?
But sometimes we don't have success because we are coming at it from the wrong direction. Sometimes we just need to ask ourselves some questions to figure out why something isn't working. Maybe the problem is a work problem, or a problem within the family or with a friend. Sometimes it's something within ourselves that we need to sort out but not sure where to start.
Personally, I always think that GOD is a
great
place to start! He knows us better than we know ourselves. But sometimes, it really is something as simple as something in the home not working for us.
I am the LAST person who should be giving decorating advice, but if it's a decor problem, try to figure out why it's not working. Ask yourself some questions:
Do I like the color?

If not, can you dye or paint it?

Do I like the style?

If not, have the styles changed or have YOU changed?

Is it working for me? If not,

why

not?
Do I like the size or scale of it? Maybe you can make it taller by putting some books or something under it, or make it smaller by adjusting the scale of items around it.
Does it seem to "go" with everything around it? If not, try moving it somewhere else, or move the items around it.
Do you LIKE it? If not, WHY not? Do you associate it with a bad memory? Or is it indicative of someone else's taste but not YOUR taste?
Is it time to let it go? Sometimes it's just time to let go of something. Remember, you don't have to let go of the memory of a beloved item. But it's o.k. to let the item go and keep the memory.
Are you bored with it? Maybe you should put it away for awhile and try something new in its place. You can always bring it out again in six months or so if you're ready for a change. Or, again, maybe it's just time to let it go.
Sometimes all we need to do is to try something new, try a different direction, a fresh approach, or a different point of view.
Sometimes we put up with the ugly just because we're USED to it.
Don't get used to it.
Don't give up yet. Today's a new day.
Maybe you DO have a choice. Go tackle your UGLY again and see if you can make something beautiful out of it, and make your home sing!
What are

you

doing or going to do today to make your home sing? Please go here for instructions and/or ideas and come back here
to link up to join us today!
If you don't want to miss any blogs posts, you can subscribe
by
RSS,
Bloglovin,
Feedly
Facebook or Email
I'd love to connect with you!
I am linking
up to these linky parties: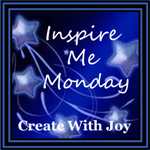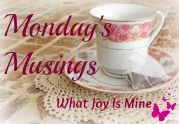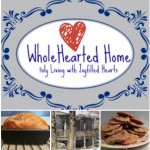 \