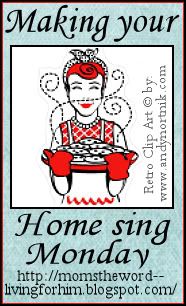 Welcome to the Making Your Home Sing Monday linky party! Every day you are doing something to make your house into a home for yourself and your family (if you have one).
My point with each Monday post is, what are YOU doing or going to do today to make your home sing? It can be an attitude or an action. So have fun, do some blog hopping, and link up!
Thanks!
Topics can include marriage, parenting, encouraging women, organization, cleaning, saving money, our behavior and attitudes, homemaking, homeschooling, recipes.....the opportunities are endless.
Note: We
had
110
linkups last week! You guys are awesomely amazing and amazingly awesome! Don't forget to visit one another and try to leave a comment
on at least one blog to encourage someone today! :)
On the left sidebar (down towards the bottom) is the "Making Your Home Sing! Monday" button which I'd love for you to grab and paste into your post! It is a "no-follow" button.
I hope you all had a lovely Thanksgiving. We sure did, but it's really thrown me off in regards to what day it is.
Frankly, it's a good thing my husband is a pastor or I would probably have forgotten to show up for church tomorrow, lol!
I know I'm not alone in this. We went to a friend's birthday party tonight (Saturday night as I write this) and a friend of ours asked my husband "Tomorrow is Sunday, right?"
Even with all of that, I didn't really connect that it was Saturday until I got home and sat down at my computer. Then, the date hit me and I realized I had to get this meme up!
But before I get this party started, I just want to say that we have snow on the ground, it's very cold outside, it's nice and warm
inside
and Christmas vomited all over my living room.
I am hoping that eventually I will be home long enough to get my house decorated. Otherwise it's going to be a
long
Christmas as I try to live with half unpacked boxes and Fall and Christmas decorations lying around everywhere.
What are

you

doing or going to do today to make your home sing? Please go here for instructions and/or ideas and come back here
to link up to join us today!
If you don't want to miss any blogs posts, you can subscribe
by
RSS,
Bloglovin,
Feedly
Facebook or Email
I'd love to connect with you!