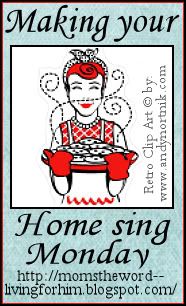 Welcome to the Making Your Home Sing Monday linky party! Every day you are doing something to make your house into a home for yourself and your family (if you have one).
My point with each Monday post is, what are YOU doing or going to do today to make your home sing? It can be an attitude or an action. So have fun, do some blog hopping, and link up!
Thanks!
Topics can include marriage, parenting, encouraging women, organization, cleaning, saving money, our behavior and attitudes, homemaking, homeschooling, recipes.....the opportunities are endless.
Note: We
had
99
linkups last week! You guys are awesomely amazing and amazingly awesome! Don't forget to visit one another and try to leave a comment
on at least one blog to encourage someone today! :)
On the left sidebar (down towards the bottom) is the "Making Your Home Sing! Monday" button which I'd love for you to grab and paste into your post! It is a "no-follow" button.
I have been decluttering and reorganizing some of my closets this week. I usually try to go through my cupboards and closets twice a year, once in the spring and once in the fall.
But we went to Disneyland this last spring and then I got sick when we got back and was pretty sick for a few months, so I sort of missed that whole "spring cleaning" thing.
I am a "tosser" by nature. I have been that way since I was a kid. I don't think I have ANYTHING from my childhood. No dried up flowers from a date, no corsages from Prom, no love letters or notes from old boyfriends. Nothing. (However, I do have all the love letters and cards that my hubby has ever sent me!) ;)
I got rid of all my dolls and toys and scrapbooks, papers and everything else as I outgrew them along the way. And honestly, I don't regret it.
I do have friends that have dolls and toys from their childhood and I think that's awesome. But I don't miss not having any of mine. I guess I really don't form attachments to things, not a lot anyway.
My mom used to complain that I wasn't sentimental because I would just toss things, or encourage HER to toss things! I would tell her that I was sentimental about people, not things.
I do have one lion puppet from my teenage years, I named him Ollie. I also have some poems I wrote throughout my teens and early 20's. Oh the drama! ;)
Even though I got rid of all of MY toys and stuff, I did save a few toys and books that were representative of my own children's childhood.
I have to admit, it was a little harder to part with some of
their
things. But I parted with most of their toys many years ago, awhile after THEY outgrew them.
The funny thing is, kids outgrow their toys long before WE are willing to let them go.
It's the memories attached. That's why it's so hard for some people to let go of things, I think. They feel like they're letting go of the memory if they let go of the item. I have wonderful memories of my children's childhood, and because of that, I made sure to keep a few toys, books and a few of their baby clothes, but I let the rest go and bless someone else.
But just so you know, I do have SOME things that I hang onto, and onto, and onto........
The problem clutter that I have is my decor accessories. I love changing the "look" of my house from a fall/winter look to a spring/summer look.
So I have three boxes that are filled with home decor items so that I can change things up a bit throughout the year. Then I have two smaller boxes filled with pumpkins, roosters, baskets,and other items to warm things up a bit in the fall. Then, of course, there are my Christmas boxes.
I have room for all of these boxes but it still drives me crazy that I have so many. I keep going through them every year, trying to scale things down. Then, of course, it seems like I buy at least ONE new item per season and wind up replacing/updating what I just tossed, lol!
So this is where I am at this week, sorting through closets and boxes and moving things around and trying to declutter. What are YOU doing this week?
What are

you

doing or going to do today to make your home sing? Please go here for instructions and/or ideas and come back here
to link up to join us today!
If you don't want to miss any blogs posts, you can subscribe
by
RSS,
Bloglovin,
Feedly
Facebook or Email
I'd love to connect with you!