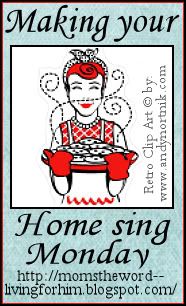 Welcome to the Making Your Home Sing Monday linky party! Every day you are doing something to make your house into a home for yourself and your family (if you have one).
My point with each Monday post is, what are YOU doing or going to do today to make your home sing? It can be an attitude or an action. So have fun, do some blog hopping, and link up!
Thanks!
Topics can include marriage, parenting, encouraging women, organization, cleaning, saving money, our behavior and attitudes, homemaking, homeschooling, recipes.....the opportunities are endless.
Note: We
had
108
linkups last week! You guys are awesomely amazing and amazingly awesome! Don't forget to visit one another and try to leave a comment
on at least one blog to encourage someone today! :)
On the left sidebar (down towards the bottom) is the "Making Your Home Sing! Monday" button which I'd love for you to grab and paste into your post! It is a "no-follow" button.
I managed to make it to a few yard sales on Saturday. My son and daughter-in-law came with me and we drove around, got lost, and then found our way back home again (obviously or I wouldn't be here writing this post).
We got lost because we began with an area I was familiar with and then we went a bit further until suddenly we had no idea where we were.
I think that change is like that sometimes.
We step outside our comfort zone and implement a change, or we are
forced
into a change.
At first it can seem exciting because we're just
a step away
from what is familiar to us, and we're having fun looking around and the possibilities are endless.
Then suddenly we are
lost
. We have wandered far from what is familiar, and it's scary and it's different and it's waaaaaay outside our comfort zone.
That's why they call it CHANGE.
We have two choices. We can panic and frantically try to find our way back to what is familiar......
OR
..........we can embrace the change.
We can look for new roads and new vistas. We can celebrate the newness and the possibilities of the new path we're on, and look around and try to find the beauty in it.
Sometimes the beauty is in the lessons we've learned, the grace we give or receive, the patience we develop, the people we meet along the way, the strength of character we discover within ourselves that has its roots in His strength, and seeing how God works in the dark.
Change is growth. We forget that sometimes.
Our comfort zone is nice and........well........
comfortable
!!!!! But being comfortable ALL THE TIME is not always desirable because there's no room for change. There's no room for possibilities. There's no room for growth.
When we change, we make a
bigger
comfort zone.
So this week, if you're facing a change, just remember that a change is only different when it's
new
. Once it becomes familiar, it will become part of your comfort zone.
Today's change can be tomorrow's comfort zone!
Try to find beauty in the change and make your home sing this week!
What are

you

doing or going to do today to make your home sing? Please go here for instructions and/or ideas and come back here
to link up to join us today!
If you don't want to miss any blogs posts, you can subscribe
by
RSS,
Bloglovin,
Feedly
Facebook or Email
I'd love to connect with you!
I am
linking up to these linky parties: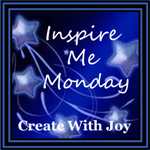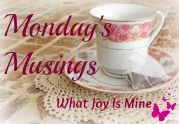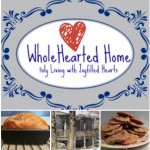 \