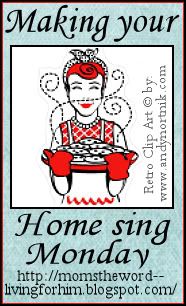 Welcome to the Making Your Home Sing Monday linky party! Every day you are doing something to make your house into a home for yourself and your family (if you have one).
My point with each Monday post is, what are YOU doing or going to do today to make your home sing? It can be an attitude or an action. So have fun, do some blog hopping, and link up!
Thanks!
Topics can include marriage, parenting, encouraging women, organization, cleaning, saving money, our behavior and attitudes, homemaking, homeschooling, recipes.....the opportunities are endless.
Note: We
had
115
linkups last week! You guys are awesomely amazing and amazingly awesome! Don't forget to visit one another and try to leave a comment
on at least one blog to encourage someone today! :)
On the left sidebar (down towards the bottom) is the "Making Your Home Sing! Monday" button which I'd love for you to grab and paste into your post! It is a "no-follow" button.
I am going to schedule this post ahead of time as I am going out of town and I don't want to forget to post. Whenever I go out of town I make long lists of things to pack and I pack WAY too much stuff.
I like to be prepared for
everything
. Warm weather, cool weather, HOT weather, cold weather, rainy weather, humid weather, etc. I like to pack shorts and tanks and sweaters and jackets, hoodies, capris, jeans, sweatshirts......you name it, I pack it.
I am probably the only person I know who packs a winter coat when flying to Florida or Hawaii.
I like to pack
extra
jeans and
extra
shoes because what if I get caught in a flash flood? What if I accidentally fall in the swimming pool?
What if a strange dog attacks me and tears a hole in the leg of my jeans? (My thought is that if the dog tears a whole in my jeans that will be the LEAST of my worries, but I still like to be prepared.)
So I pack more clothes than any one person needs and then they mostly all sit in the suitcase while I go out and party with the clothes that I
really
need.
It's not like I can't buy clothes when I travel, but who wants to spend time shopping and buying clothes when you're on vacation?
Oh. Wait.........
What are

you

doing or going to do today to make your home sing? Please go here for instructions and/or ideas and come back here
to link up to join us today!
If you don't want to miss any blogs posts, you can subscribe
by
RSS,
Bloglovin,
Feedly
Facebook or Email
I'd love to connect with you!