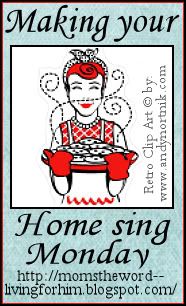 Welcome to the Making Your Home Sing Monday linky party! Every day you are doing something to make your house into a home for yourself and your family (if you have one).
My point with each Monday post is, what are YOU doing or going to do today to make your home sing? It can be an attitude or an action. So have fun, do some blog hopping, and link up!
Thanks!
Topics can include marriage, parenting, encouraging women, organization, cleaning, saving money, our behavior and attitudes, homemaking, homeschooling, recipes.....the opportunities are endless.
Note: We
had
108
linkups last week! You guys are awesomely amazing and amazingly awesome! Don't forget to visit one another and try to leave a comment
on at least one blog to encourage someone today! :)
On the left sidebar (down towards the bottom) is the "Making Your Home Sing! Monday" button which I'd love for you to grab and paste into your post! It is a "no-follow" button.
We are slipping into fall slowly here. We've had a day or two of rainy, fall-type weather, but then we've had some warm days of weather in the 70's to 80's.
But I know that once we hit it, we will do so with a vengeance and summer will be but a memory.
I had a great time switching some of my home decor from spring/summer to fall. I love to cozy things up a bit with wood, candles, baskets, an owl or a rooster, some fake pumpkins, a cozy throw, and warmer colors.
I told my hubby that I was surprised at how happy I was just to have a little change of decor!
Do you like to shake things up a bit with a change of seasonal accessories?
If you've never tried it, just pick up something small such as a candle or maybe a pot of mums or a pretty basket and put it on the table or where you can see it several times a day.
You may find that just a small change is just the thing you need to take your house into fall and perk YOU up too! ;)
When the days start to get shorter and it gets dark much earlier, and the weather turns dreary as rain begins to fall, we want to make it as appealing
indoors
as we can. In summer we lighten up but in summer we COZY up!
So add a comfy throw and/or change up the couch pillows, light a candle, add some family pictures, flowers, books, magazines or whatever speaks "fall" and "comfort" to you and make your home sing this week!
What are

you

doing or going to do today to make your home sing? Please go here for instructions and/or ideas and come back here
to link up to join us today!
If you don't want to miss any blogs posts, you can subscribe
by
RSS,
Bloglovin,
Feedly
Facebook or Email
I'd love to connect with you!