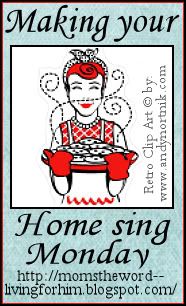 Welcome to the Making Your Home Sing Monday linky party! Every day you are doing something to make your house into a home for yourself and your family (if you have one).
My point with each Monday post is, what are YOU doing or going to do today to make your home sing? It can be an attitude or an action. So have fun, do some blog hopping, and link up!
Thanks!
Topics can include marriage, parenting, encouraging women, organization, cleaning, saving money, our behavior and attitudes, homemaking, homeschooling, recipes.....the opportunities are endless.
Note: We
had
114
linkups last week! You guys are awesomely amazing and amazingly awesome! Don't forget to visit one another and try to leave a comment
on at least one blog to encourage someone today! :)
On the left sidebar (down towards the bottom) is the "Making Your Home Sing! Monday" button which I'd love for you to grab and paste into your post! It is a "no-follow" button.
My family went out of town for a few days and so it was just the dogs and I holding down the fort while they were gone. What do you suppose I did while they were away?
Grab a stack of dvd's and hold my own "Dr. Who" all day marathon? Catch up on my stack of Better Homes & Gardens magazines? Read a favorite book while snacking on gluten-free oatmeal cookies? Get a mani and pedi? All of the above?
Well..............
You would be wrong.
Back when the kids were little, sometimes my hubby went out of town and suddenly it was project and party time! I might grab some fast food and rent a video for the kids, or we'd stop at the library. After dinner they'd watch their video and I would start working on cleaning, decluttering, organizing or some other project.
After the kids were in bed I was able to continue working, uninterrupted. While I loved having my husband at home, I would take advantage of his absence and work long into the night. The kids and I would usually have a play date the next day with friends, and then I'd get back to my project again that night.
I might break out the can of spray paint, clean out closets, rearrange a room, or clean and organize to my heart's content!
So this last weekend I vacuumed and mopped floors, cleaned bathrooms, did laundry, changed sheets, did a little filing (very little), and straightened/decluttered some drawers.
I also reorganized the walk-in pantry so that you could actually, you know,
WALK
in it.
A friend called to ask what I was up to, and I'm pretty sure that the words "fun" and "cleaning" did not compute.
But I love being able to dive into something with no interruptions, except for the dogs whose crossed legs and panicky eyes let me know that I do have
some
responsibilities.
I love bringing order to chaos knowing that it will make my family's life and mine a little easier, or at least a little more organized.
I love being able to spread out and make a mess while I declutter or reorganize something, and not have to worry about being in anybody's way, or anybody being in
MY
way.
I love knowing that I have the time to finish what I've started, and I don't have to pay attention to the clock.
I can do this while my family is home, of course. My husband doesn't mind eating out of the freezer and our youngest doesn't need supervision anymore, so I do have the time to start a project, and sometimes I do.
But it just seems easier when my time is my own, to spend however I want.
Rest assured, I
did
manage a mini "Dr. Who" marathon, Also, I read half of a magazine, ate some oatmeal cookies (gluten-free!), and read a couple of chapters in my book. No mani or pedicure but I did wave at my toes this morning, and promised them that I haven't forgotten them. So for those of you who can't stand cleaning or organizing, my weekend won't seem like a total loss!
When our husbands are away we can organize or clean to our heart's delight if that's what we enjoy, we can spend some quality time with friends, or just party with the kids! Maybe all three!
Many, if not most, times our routines will be the same, whether hubby is away or at home. But if we want a change, we can:
Think of a chore or something you've been putting off and DO it (or at least start it). Reorganize a closet, rearrange a room, declutter, or start sewing up a storm!
Reconnect with some old friends over lunch or dinner
Plan a candlelight dinner for when hubby comes home and go shopping for the ingredients
Watch some "chick" flicks and sob your heart out (for the record, I really don't like chick flicks but I know some really love them)
Let the kids build a fort in the family room (that ought to keep them busy for awhile) and then everybody sleep in it that night.......mom included!
Surf the net without feeling guilty
Go shopping with some girlfriends and get a pedicure
Write your husband a love letter and slip it on his pillow for him to read when he returns
Make the kids' favorite meal have a popcorn and movie night
Read at least one magazine from cover to cover
What do YOU like to do when you have the place to yourself for a long time?
What are

you

doing or going to do today to make your home sing? Please go here for instructions and/or ideas and come back here
to link up to join us today!
If you don't want to miss any blogs posts, you can subscribe
by
RSS,
Bloglovin,
Feedly
Facebook or Email
I'd love to connect with you!
I am
linking up to these linky parties: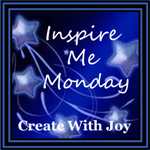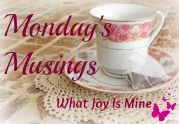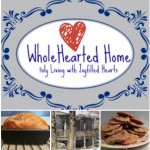 \