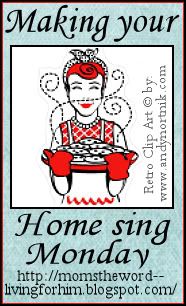 Welcome to the Making Your Home Sing Monday linky party! Every day you are doing something to make your house into a home for yourself and your family (if you have one).
My point with each Monday post is, what are YOU doing or going to do today to make your home sing? It can be an attitude or an action. So have fun, do some blog hopping, and link up!
Thanks!
Topics can include marriage, parenting, encouraging women, organization, cleaning, saving money, our behavior and attitudes, homemaking, homeschooling, recipes.....the opportunities are endless.
Note: We
had
118
linkups last week! You guys are awesomely amazing and amazingly awesome! Don't forget to visit one another and try to leave a comment
on at least one blog to encourage someone today! :)
On the left sidebar (down towards the bottom) is the "Making Your Home Sing! Monday" button which I'd love for you to grab and paste into your post! It is a "no-follow" button.
'Tis the season for weddings! I have attended two weddings in less than a week. At one of the weddings my husband realized that he had married four of the couples who were in attendance, lol!
One of the exciting things about a wedding is the fact that the couple is just starting out on a whole new adventure together, usually beginning with an awesome honeymoon.
Another exciting thing about a wedding is that you get all those awesome gifts! Towels, sheets and all sorts of fun kitchen things........
Also, there always seems to be that one wedding gift that you have NO idea what to do with. It's either totally not your taste or you have no idea what it is supposed to be or what you're supposed to do with it.
At our wedding, we were given a decorative accessory that I imagine the givers thought was beautiful, as I'm pretty sure they didn't pick out something ugly on purpose. I, however, did not like it at all, although I did appreciate the fact that someone took the time and spent the money to give it to us.
I put it out for awhile on display, even though I really, really disliked it. Then we moved from an apartment into our house.
I have to admit that I did not pack it up very nicely at all. I just set it in a box and "hoped" it would get broken on the trip. I couldn't bring myself to get rid of it but knew that if it broke, I would have no qualms about tossing it.
Then someone who was helping us move, very graciously (!) packed it up in bubble wrap so that it wouldn't break. Bummer. ;)
I know some people keep things they don't like and just hide them away so they don't have to look at them. I did that for awhile too.
Isn't it funny how we can let an item get a choke hold on us to where we will display it or keep it even though we don't
like
it?
Just because someone gave us a gift, I don't believe that we have to be imprisoned by it. We can appreciate the gift and the sentiment and yet not have to allow someone else's tastes to dictate OUR tastes.
If it's a new gift, don't you think the giver would rather you exchange it and find something you can enjoy, rather than hiding it away somewhere?
Do you have things you are keeping that you hate? Are you hiding things away in drawers and keeping them out of sight because of guilt? Are you allowing someone else's gifts to decorate your home for you in decor that you despise? Is it affecting how you feel about your home?
Appreciate the gift and then let it go to someone else who will appreciate it more than you, and make your home sing this week!
What are

you

doing or going to do today to make your home sing? Please go here for instructions and/or ideas and come back here
to link up to join us today!
If you don't want to miss any blogs posts, you can subscribe
by
RSS,
Bloglovin,
Feedly
Facebook or Email
I'd love to connect with you!