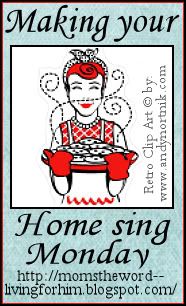 Welcome to the Making Your Home Sing Monday linky party! Every day you are doing something to make your house into a home for yourself and your family (if you have one).
My point with each Monday post is, what are YOU doing or going to do today to make your home sing? It can be an attitude or an action. So have fun, do some blog hopping, and link up!
Thanks!
Topics can include marriage, parenting, encouraging women, organization, cleaning, saving money, our behavior and attitudes, homemaking, homeschooling, recipes.....the opportunities are endless.
Note: We
had
101
linkups last week! You guys are awesomely amazing and amazingly awesome! Don't forget to visit one another and try to leave a comment
on at least one blog to encourage someone today! :)
On the left sidebar (down towards the bottom) is the "Making Your Home Sing! Monday" button which I'd love for you to grab and paste into your post! It is a "no-follow" button.
I haven't done a frugal post in awhile. A long while. A VERY long while.
It's because we won the lottery and no longer need to be frugal.
Not.
I was talking to someone recently who said that his dad had paid for two storage units for over 20 years. My friend began to clean out the storage units and he said that most of the stuff in there was junk. Just junk. Not even usable - it had to go straight into the trash.
He was lamenting the fact that his dad spent thousands of dollars over 20 years time in order to store all that junk, when he could have been enjoying his senior years with his wife, going on trips, or just having more comforts at home.
But his dad was a "depression" baby and I
do
understand the desire to keep stuff and not throw it away, just in case you needed it.
On the other hand, I also understand the irony of paying over $100 a month to store stacks of old magazines that no one reads, a bunch of doorknobs that you'll never use, and tools and things that are broken, rusty or bent and unusable.
What if you are paying more for storage than the items are worth?
I don't know. I know that my sis stored some furniture and stuff temporarily when she moved from a home into a tiny apartment, and for her, the storage unit was a great idea and a good investment. I myself once stored some stuff of sentimental value (and some necessary stuff) when I moved back in with my parents for a few months when I was single. To me - it was temporary and it was worth it.
Probably most of us don't pay for a storage unit. But what about the "real estate" in your home?
Do you have one room that you can't use because there's too much junk in it? Do you have a garage that you can't get your car into because there's too much stuff in there?
After we first moved into our current home, I managed to get most every room unpacked and livable. Except for one room. We called it the "junk" room, but it was really our
Room of Doom

.
I had a four year old and a new baby and once I got all our "necessary" stuff unpacked and most of our other things unpacked, I just gave up on unpacking for awhile. I stuck everything in that room where it stayed for awhile, and I closed the door and walked away.
The problem with doing stuff like that is that you are paying for a room that you aren't using. You are paying for a three bedroom house when you actually only have a TWO bedroom house, because one bedroom is filled with stuff and you can't use it.
You are paying for a two car garage when you actually have a
no
-car garage because it's filled with stuff. Or you are paying for a walk-in pantry that you can't walk into, because there's just no room.
You have a bedroom or family room that you don't like to be in for very long because it's just too cluttered and is not comfortable or restful to be in.
Your child has so many toys that you are tripping and falling all over them. He doesn't have space in his room to play with them as it is crammed full of toys, so they are taking over your house. You have boxes of old toys in the garage that your children outgrew but you can't bear to get rid of.
You have to move your stuff off your bed to sleep, and move stuff off your table to eat. Then you put it back again when you're done. You have a hard time finding anything to wear because you have to fight your closet every time you need to get in there.
You get the idea.
When this happens your clutter is costing you
MONEY
because you are paying more money for space that you can't use.
Let's say you rent a 2 bedroom apartment and pay $1200 a month, but you're only using one of the bedrooms. The other bedroom is full of what you call "junk." You recently discovered a one bedroom apartment in the same building for $1,000, but you're not sure you can squeeze all your clutter into a smaller place. Is all that clutter worth an extra $200 a month?
Most of us don't think this way. We aren't paying for the clutter we have around the house so we don't think it's costing us money. But it's taking up space, costing us time and money and
ENERGY
to maintain, and maybe even a little
STRESS
. Maybe a
lot
of stress........
Is YOUR clutter causing you stress? Is it costing you money? Is it causing arguments with your spouse or causing you to get annoyed or angry with your children?
Take back the control today.
Control your clutter - don't let it control you
. The
four box method
is a great way to begin to get that clutter under control, simplify your life and make your home sing!
What are

you

doing or going to do today to make your home sing? Please go here for instructions and/or ideas and come back here
to link up to join us today!
If you don't want to miss any blogs posts, you can subscribe
by
RSS,
Bloglovin,
Feedly
Facebook or Email
I'd love to connect with you!


I am linking up to these linky parties: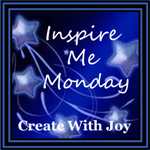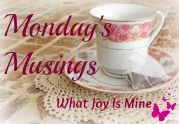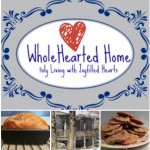 \