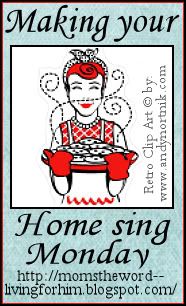 Welcome to the Making Your Home Sing Monday linky party! Every day you are doing something to make your house into a home for yourself and your family (if you have one).
My point with each Monday post is, what are YOU doing or going to do today to make your home sing? It can be an attitude or an action. So have fun, do some blog hopping, and link up!
Thanks!
Topics can include marriage, parenting, encouraging women, organization, cleaning, saving money, our behavior and attitudes, homemaking, homeschooling, recipes.....the opportunities are endless.
Note: We
had
120
linkups last week! You guys are awesomely amazing and amazingly awesome! Don't forget to visit one another and try to leave a comment
on at least one blog to encourage someone today! :)
On the left sidebar (down towards the bottom) is the "Making Your Home Sing! Monday" button which I'd love for you to grab and paste into your post! It is a "no-follow" button.
Sometimes I feel like I clean the same things over and over. Do you ever feel that way? Sometimes it just feels like
ALL
I do is clean the kitchen.
Seriously.
All I do is clean the kitchen.
All. Day. Long.
If I'm not cleaning the kitchen I am straightening up the living room, or neatening up the bathroom.
Honestly, doesn't it just feel like you are ALWAYS doing laundry or washing the dishes or emptying the dishwasher?
That's because you are. I am too.
This is how we stay ahead of the game.
The Housecleaning Game
Because it
IS
like a game.
In a game you either play by yourself or you are part of a team, but either way you are playing to get ahead and win.
There are rules in the game, and sometimes penalties.
(click picture to enlarge)
In the housecleaning game, the rules are simple:
If you take something out, put it away when you're finished with it. Have a place for everything and put it in its place by the end of the day.
Clean up the kitchen after every meal.
Run the dishwasher after dinner if it's full or mostly full.
Empty the dishwasher early in the morning.
Hang up or put away your clothes when you take them off.
Wipe up spills or messes as soon as they happen.
Rinse dishes (if necessary) and load directly into the dishwasher so food doesn't harden.
Have regular toy pickups throughout the day. (We had three: before lunch, before dinner, before bed).
Have a regular cleaning routine and follow it as best you can.
Don't let the laundry pile up.
(click picture to enlarge)
The penalties can be difficult:
A sink full of dishes and a counter top full of clutter can make dinner preparation very stressful.
Doing dishes can take a lot longer when food is hardened and dried on.
Waking up to a messy kitchen or a cluttered home can get your day off to a bad start.
The chaos and clutter of an overly messy home can be very overwhelming.
Clutter can cost you money as you find yourself buying new things to replace the ones you can't find.
The mess and stress of living in all that clutter can cause fights within your family.
Feeling like a failure because you can't keep your house clean even though you try and try.
Feeling as if people are judging you whenever they come over to visit.
Stepping on a lego or another small toy in the middle of the night can REALLY wake you up, not to mention hurt.
Getting further and further behind until eventually you feel defeated and don't even bother trying to catch up.
(click picture to enlarge)
But the rewards of the housecleaning game are awesome!:
Peace of mind.
No more embarrassing moments when people just drop in without notice.
Starting the day with a clean slate instead of starting behind.
Staying on top of things means you spend less time cleaning and more time having fun!
Getting the kids out of the house on time and in a good mood, instead of screaming at them as they rush around trying to find their backpacks and shoes while you try to find them something clean to wear.
Getting yourself out of the house without having to spend 10 minutes looking for your keys.
Being able to relax for the evening without having to block out all the mounds of laundry, stacks of dirty dishes, and other unfinished business calling your name.
Waking up to a CLEAN kitchen and clean bathroom. Awesome!
Being able to find what you need when making dinner because you know where everything is.
Did I mention peace of mind?
So go ahead and play the housecleaning game today and make your home sing!
You'll be glad you did!
What are

you

doing or going to do today to make your home sing? Please go here for instructions and/or ideas and come back here
to link up to join us today!
If you don't want to miss any blogs posts, you can subscribe
by
RSS,
Bloglovin,
Feedly
Facebook or Email
I'd love to connect with you!
I am linking up to these linky parties: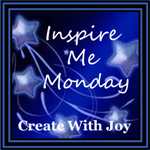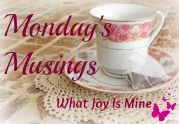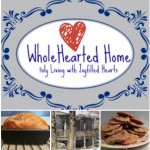 \