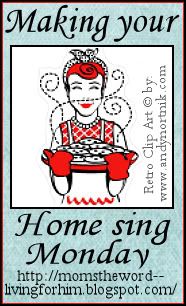 Welcome to the Making Your Home Sing Monday linky party! Every day you are doing something to make your house into a home for yourself and your family (if you have one).
My point with each Monday post is, what are YOU doing or going to do today to make your home sing? It can be an attitude or an action. So have fun, do some blog hopping, and link up!
Thanks!
Topics can include marriage, parenting, encouraging women, organization, cleaning, saving money, our behavior and attitudes, homemaking, homeschooling, recipes.....the opportunities are endless.
Note: We
had
117
linkups last week! You guys are awesomely amazing and amazingly awesome! Don't forget to visit one another and try to leave a comment
on at least one blog to encourage someone today! :)
On the left sidebar (down towards the bottom) is the "Making Your Home Sing! Monday" button which I'd love for you to grab and paste into your post! It is a "no-follow" button.
When my kids were little I wondered what they would remember when they grew up. Would they remember the times I lost my temper with them?
Would they remember those words I wished I could take back? Would they remember me with a mad face? Would they remember that day when I said I didn't have time to read them yet another story?
What would they remember? Would they remember long games of monopoly? Moments of laughter? Dancing wildly around the room to Disney songs? Picnics and hikes and bike rides and swimming in the pool? Nights where we let them stay up late? The times we prayed with them when they were concerned about something and cuddled with them when they were upset?
Would they remember nights where I held them and rocked them to sleep or times when they weren't feeling well and I stayed next to their bed and told them stories or sang them songs until they feel asleep?
Would they remember when we woke them up at midnight because it was snowing so beautifully and we got them dressed and went outside and made snow angels? Would they remember hot summer nights when we tucked them into bed and less then five minutes later came in and surprised them by taking them out (in their pj's) for ice cream?
What would they remember?
Do you worry about how you are raising your children?
Are you trying to raise them as you feel the Lord wants you to do but worry sometimes about the future? Wondering if you are making
this
mistake or
that
mistake? Are you worrying that you just might be "doing" it wrong?
Do you wonder what THEY will remember about their childhood?
What do you remember about your OWN childhood? Do you remember only bad times? Or do you remember good times too? Assuming you weren't abused, do you have mostly good memories or do you find yourself dwelling on only the bad ones?
Do you find yourself worrying about what your children will remember?
When you are doing your best to follow after the Lord and love and raise those kids to the best of your ability, you will have wonderful moments in which you feel good about yourself and moments where you feel that you are a "good" mom.
You will also have moments where you feel like you blew it. Moments where you feel like you've failed. Moments when you make a mistake. Moments you regret. Moments you wish you could do over.
But kids? They are very resilient. They are also very forgiving, and they love you, mama, and they know that you love them!
As they grow, you will find that they will remember some wonderful times that YOU have forgotten. They will have some wonderful memories of moments and times with you that YOU thought were uneventful but that your children treasure.
Have no fear, your children will remember the love you have for them, the fun and the laughter, the cuddles and hugs, and the wonderful memories you are making with them.
That kind of love overrides all the negative, as long as there is much more love and much more positive to overcome it with, and that's what you're seeking to do, right? Trying to raise them in a loving environment, where they can see that mom and dad make mistakes too, sometimes, but that we own up to our mistakes and ask them for forgiveness when necessary?
All our children really want is to feel safe and know that they are loved. So have no worries, mama, and
smile at the future
.
You're doing a GREAT job!
What are

you

doing or going to do today to make your home sing? Please go here for instructions and/or ideas and come back here
to link up to join us today!
If you don't want to miss any blogs posts, you can subscribe
by
RSS,
Bloglovin,
Feedly
Facebook or Email
I'd love to connect with you!
I am linking
up to these linky parties: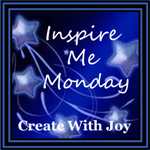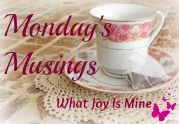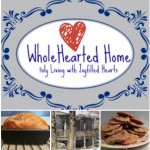 \