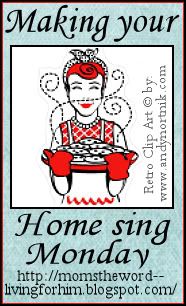 Welcome to the Making Your Home Sing Monday linky party! Every day you are doing something to make your house into a home for yourself and your family (if you have one).
My point with each Monday post is, what are YOU doing or going to do today to make your home sing? It can be an attitude or an action. So have fun, do some blog hopping, and link up!
Thanks!
Topics can include marriage, parenting, encouraging women, organization, cleaning, saving money, our behavior and attitudes, homemaking, homeschooling, recipes.....the opportunities are endless.
Note: We
had
112
linkups last week! You guys are awesomely amazing and amazingly awesome! Don't forget to visit one another and try to leave a comment
on at least one blog to encourage someone today! :)
On the left sidebar (down towards the bottom) is the "Making Your Home Sing! Monday" button which I'd love for you to grab and paste into your post! It is a "no-follow" button.
"Don't tell dad!"
Sometimes these words would pop out of my young children's mouths when they had done something wrong. They already knew that they had done something they shouldn't have and they didn't want their dad to know about it.
Some of their reasoning may have been that they didn't want to disappoint him, and some of it may just have been that they didn't want him to know in case he had something further to say about what they did.
"I don't keep secrets from your dad," I would remind them.
I usually gave hubby an update when he came home about how my day went (sometimes the minute he walked through the door, lol!).
But there were times when they
hadn't
done anything wrong. In fact, maybe they had done something
RIGHT
or something awesome or funny had happened. I would encourage them to call daddy and share their news with
him
as well.
I wanted my children to see their dad as my parenting partner. I did not want to create a little "club" that their dad was not a part of. I did not want him to be an outsider in his own family. I also wanted my children to believe that they could come to their dad with anything.
I don't keep secrets from my husband, but I have kept
confidences
from him. There is a difference.
In my position as a pastor's wife, I will often have someone's confidence and I do NOT pass those onto my husband (unless they ask me to, of course).
I also kept my children's confidences. To me, the difference between a secret and a confidence is a secret involved holding back a wrong-doing and a confidence held back a thought or feeling.
So there were times that I kept my children's confidence, but I would also urge them to talk to their dad about it, telling him "He will understand and he can help!"
Later, I would usually discover that my children
had
talked to their dad, and they found that sometimes daddy had a different perspective than mommy on the situation. They also learned that daddy did indeed understand, and did indeed help, and that he wouldn't laugh at them.
Sometimes children can get very used to confiding in mom from babyhood on, but they need a little more encouragement to confide in dad.
What YOU can do to help this along is:
1. Pray for your husband's willingness to "court" his children and recognize the importance of spending individual time with them
. The goal is to win their hearts and when you win their hearts, you will have their confidence.
2. Encourage your husband to plan some one-on-one time with your child.
It can be something as simple as going out for a coke, taking a walk, reading a bedtime story, or more involved such as a movie or a sporting event. A lot of talking can get done in the car on the way to an event! Quality time is great, but you're looking for some
quantity
time here too, so pray that he will be consistent about setting time aside on a regular basis.
3.
Encourage your husband if he gets discouraged.
Conversation can take time (especially if the child is older and not used to confiding in daddy). It starts out small and builds up. Remember, he is building a closer relationship with his children and that takes time, but the rewards are
immeasurable
.
4. Offer to plan something for them to do
if you see that he is struggling in this area.
5. Encourage your husband to let your child talk and not shut them down right away by trying to "fix" it.
Encourage him to just listen and, if advice is asked or guidance needed, to offer his opinion as an
opinion
instead of a directive. Remember, we are talking about sharing confidences here, not a confessional. If the child is confessing to a wrong he has done, that is a bit different, of course. But if he is just sharing his feelings or confusion about a decision, remind daddy to listen FIRST and not fix. Fixing is for later, let your child get all his words out first.
As I said earlier, children can get used to talking and sharing their confidences with mom, and as much as they love their dad, they might be a bit intimidated to talk with him at first, if they aren't used to it. They may believe he's too busy or just assume he "doesn't care" about the little things as much as mom does.
It's up to daddy to show them that he DOES care
by spending time with them, whether it's carrying them on a piggy back ride to bed, a tickle fest, a pillow fight, taking them out for a coke, etc. One-on-one time means a lot.
A fun shared moment ending with daddy asking "So how was
your
day?" will eventually reap huge rewards in your child's life
AND
your husband's as
the answer to that question will continue to knit their hearts together in love.
What are

you

doing or going to do today to make your home sing? Please go here for instructions and/or ideas and come back here
to link up to join us today!
If you don't want to miss any blogs posts, you can subscribe
by
RSS,
Bloglovin,
Feedly
Facebook or Email
I'd love to connect with you!
I am linking
up to these linky parties: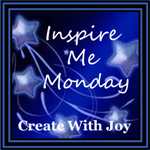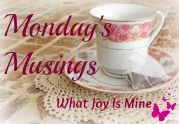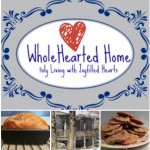 \