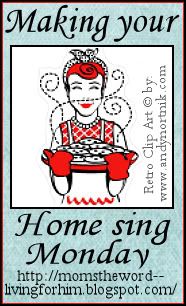 Welcome to the Making Your Home Sing Monday linky party! Every day you are doing something to make your house into a home for yourself and your family (if you have one).
My point with each Monday post is, what are YOU doing or going to do today to make your home sing? It can be an attitude or an action. So have fun, do some blog hopping, and link up!
Thanks!
Topics can include marriage, parenting, encouraging women, organization, cleaning, saving money, our behavior and attitudes, homemaking, homeschooling, recipes.....the opportunities are endless.
Note: We
had
112
linkups last week! You guys are awesomely amazing and amazingly awesome! Don't forget to visit one another and try to leave a comment
on at least one blog to encourage someone today! :)
On the left sidebar (down towards the bottom) is the "Making Your Home Sing! Monday" button which I'd love for you to grab and paste into your post! It is a "no-follow" button.
I remember when I was a teenager and the future stretched out before me and frankly, it was a little scary! I had no idea what I was going to do with my life and I found that a little intimidating.
One day, I read
Proverbs 31:25 and came across the part where it says:
"..she smiles at the future..."
and
I LOVED the idea that I could just leave my worries in the Lord's hands and smile at the future.
Whenever I would start to worry about something that might happen, I would remind myself of that verse. I loved it.
I wanted to smile at the future.
I am in a different season of life myself now. My children are grown, my homeschooling days are over, our first child just got married…….and the future stretches out before me, and it's unknown and maybe eve
n a little scary!
Yet I still love the idea that I can just leave my worries with Him and smile at the future.
What about you? Do YOU smile at the future?
Does it stretch before you with uncertain days and long, weary nights and do you wonder or worry about what it's going to bring?
We can spend so much time worrying about tomorrow that we can't enjoy TODAY.
We can spend so much of our time planning and preparing and worrying about what MIGHT happen that we can miss what IS happening right now.
We can miss our husband's sweet smile, our childrens' whispered "I love you mommy!" as we tuck them in bed or our teenager's "Thanks, mom! You're awesome!"
Worry can cause us to be present in our bodies but absent in our thoughts, so that we respond as expected but with absent smiles and inattentive hugs, because we're not really "there."
Seriously, do you have room for one more DISTRACTION in your life?
I
don't.
Worry is something that crashes into our lives with a thought, and we INVITE it to stay by continually thinking about it, obsessing over it, and dwelling on it.
Have you ever heard that old saying that worry is like a rocker? It will give you something to do but you won't get anywhere.
If worry is a habit of yours how about kicking it to the curb and taking up knitting instead? ;)
6

Do not be anxious about anything, but in every situation, by prayer and petition, with thanksgiving, present your requests to God.
7

And the peace of God, which transcends all understanding, will guard your hearts and your minds in Christ Jesus.
8

Finally, brothers and sisters, whatever is true, whatever is noble, whatever is right, whatever is pure, whatever is lovely, whatever is admirable—if anything is excellent or praiseworthy—think about such things. (Philippians 4:6-8)
How often are you praying about the things you're worrying about? After all, if it's big enough to
worry
about, isn't it big enough to
PRAY
about?
And if it's not worth praying about, is it worth worrying about?
You and I don't know what the future holds, but we know Who holds the future!
THIS is why we can smile at the future, be "present" with our families, and make our homes sing today and every day!
What are

you

doing or going to do today to make your home sing? Please go here for instructions and/or ideas and come back here
to link up to join us today!
If you don't want to miss any blogs posts, you can subscribe
by
RSS,
Bloglovin,
Feedly
Facebook or Email
I'd love to connect with you!
I am linking up to these linky parties: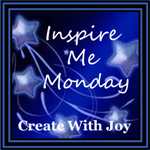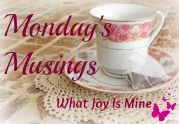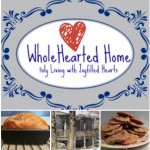 \