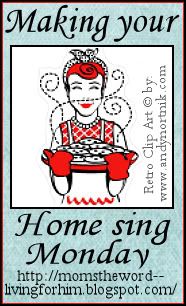 Welcome to the Making Your Home Sing Monday linky party! Every day you are doing something to make your house into a home for yourself and your family (if you have one).
My point with each Monday post is, what are YOU doing or going to do today to make your home sing? It can be an attitude or an action. So have fun, do some blog hopping, and link up!
Thanks!
Topics can include marriage, parenting, encouraging women, organization, cleaning, saving money, our behavior and attitudes, homemaking, homeschooling, recipes.....the opportunities are endless.
Note: We
had
111
linkups last week! You guys are awesomely amazing and amazingly awesome! Don't forget to visit one another and try to leave a comment
on at least one blog to encourage someone today! :)
On the left sidebar (down towards the bottom) is the "Making Your Home Sing! Monday" button which I'd love for you to grab and paste into your post! It is a "no-follow" button.
1. I learned I am selfish.
2. I learned that I could sleep almost anywhere at almost any time in almost any position with almost any noise in the background.
3. I learned how full my heart could be.
4. I learned how vulnerable I suddenly had become.
5. I learned that t.v. toy commercials could be a bad thing.
6. I learned that cartoons could be a good thing.
7. I learned to really appreciate a rocking chair.
8. I learned that one child makes A LOT of laundry......and two makes even more.
9. I learned to sleep with one eye and one ear open.
10. I learned that I could totally tell the difference between my baby's cries.
11. I learned that an "innocent" t.v. show or movie was suddenly not so innocent when my young, impressionable child was sitting next to me.
12. I learned that "stupid-head" was a bad word.
13. I learned that night terrors were more terrifying for the parent than for the child.
14. I learned that asking "Where did I come from?" means "What state was I born in?" when you ask further questions of a four year old instead of freaking out.
15. I learned that small children always believe you can sing beautifully.....even when you can't.
16. I learned how quickly my children could forgive and let go and move on.
17. I learned to mourn the loss of "mommy" as I transitioned to being called "mom."
18. I learned that my children didn't appreciate their naps nearly as much as
I
did.
19. I learned how honest children could be about your morning breath.
20. I learned that children think you're beautiful, no matter what.
What are

you

doing or going to do today to make your home sing? Please go here for instructions and/or ideas and come back here
to link up to join us today!
If you don't want to miss any blogs posts, you can subscribe
by
RSS,
Bloglovin,
Feedly
Facebook or Email
I'd love to connect with you!
I am linking up
to these
linky parties: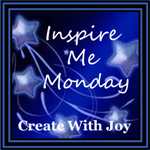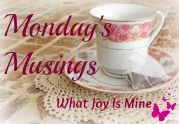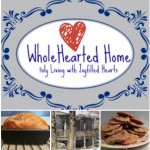 \