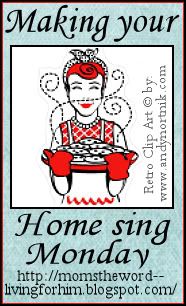 Welcome to the Making Your Home Sing Monday linky party! Every day you are doing something to make your house into a home for yourself and your family (if you have one).
My point with each Monday post is, what are YOU doing or going to do today to make your home sing? It can be an attitude or an action. So have fun, do some blog hopping, and link up!
Thanks!
Topics can include marriage, parenting, encouraging women, organization, cleaning, saving money, our behavior and attitudes, homemaking, homeschooling, recipes.....the opportunities are endless.
Note: We
had
100
linkups last week! You guys are awesomely amazing and amazingly awesome! Don't forget to visit one another and try to leave a comment
on at least one blog to encourage someone today! :)
On the left sidebar (down towards the bottom) is the "Making Your Home Sing! Monday" button which I'd love for you to grab and paste into your post! It is a "no-follow" button

.
Wow, I could really use an extra hour right now, instead of losing one! I was all ready to sit down and get this linky post up when I remembered that I had several pounds of lean ground turkey in the fridge that needed to be divided up and frozen before it went bad.
How does ground turkey go bad? Well, I suspect that it has something to do with super high heels, too much makeup, and
tight leather pants
.

But I could be wrong about that.
I also remembered that I had a sink full of dishes and a loaded dishwasher because I dropped everything when a friend called and ran out the door.
To be clear, my friend didn't come into my home, yell something, and then run out my door. *I* ran out the door when she called. And I really didn't run, it was more of a slow gallop. Or maybe a fast walk. Or maybe it was more of a prancercise.
Also, my sink wasn't filled with my dishwasher. The dishwasher wasn't actually
in
the sink. And, the dishwasher wasn't drunk either. I know it sounded like it from what I said but it wasn't.
And I really didn't drop everything when my friend called. Because if I had, I would have dropped the phone first and then I wouldn't have been able to hear what she said after that.
I really hope everything is clear now and that you weren't at all stressed thinking my ground turkey was running on the wrong side of the law or that my dishwasher was in need of some serious intervention.
It's all good. Now be a sweetie and link up below, o.k.? Thanks!
What are

you

doing or going to do today to make your home sing? Please go here for instructions and/or ideas and come back here
to link up to join us today! Please do not put your own "Making Your Home Sing Monday" Linky on your blog.
If you don't want to miss any blogs posts, you can subscribe
by
RSS,
Bloglovin,
Feedly
Facebook or Email
I'd love to connect with you!