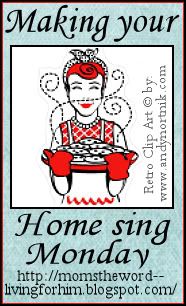 Welcome to the Making Your Home Sing Monday linky party! Every day you are doing something to make your house into a home for yourself and your family (if you have one).
My point with each Monday post is, what are YOU doing or going to do today to make your home sing? It can be an attitude or an action. So have fun, do some blog hopping, and link up!
Thanks!
Topics can include marriage, parenting, encouraging women, organization, cleaning, saving money, our behavior and attitudes, homemaking, homeschooling, recipes.....the opportunities are endless.
Note: We
had
115
linkups last week! You guys are awesomely amazing and amazingly awesome! Don't forget to visit one another and try to leave a comment
on at least one blog to encourage someone today! :)
On the left sidebar (down towards the bottom) is the "Making Your Home Sing! Monday" button which I'd love for you to grab and paste into your post! It is a "no-follow" button.
I remember trying for years and years to get pregnant. Those were hard years but they were also wonderful years of just my husband and I, bonding together and getting through the painful years of infertility.
Every month I mourned the death of a dream, the dream of ever getting pregnant. And every month hope started anew as maybe THIS month would be
the
month and I'd conceive a precious little one.
I also remember many of the things people said to me:
Buy a (fill in the blank) Car, boat, bigger house, dog......you name it they said it.
Buy something. Anything! Great! Then you will be stuck with a boat payment, a house you can't afford, a dog you didn't really want, and you're
STILL
not pregnant.
Just relax and it will happen
Take a vacation, they said.
Relax
, they said. Come on, you mean to tell me that I hadn't relaxed at least
ONCE
in all those years? Seriously? Not once? Way to put all the blame on
me
, folks!
Are you SURE you want one?
I remember standing there with friends whose toddlers were acting up and they looked at me in frustration and weariness and said "Are you SURE you want one of these?"
"Yes. Yes, I want one of those. Very much." I'd say. They would just sigh and shake their heads, grab their screaming toddler and walk away. I stared longingly after them.
I wanted one, very much. Because I knew that those little ones wouldn't scream forever. I knew that there were difficult times and wonderful, precious times. And I wanted to experience them all.
Adopt
.
"My best friend's mother's sister's pastor's wife's hair stylist
adopted
and SHE got pregnant right afterward." Wow, that's awesome!
However, I don't see adoption as a way to increase my fertility. You adopt when you're
ready
to adopt, not so you can conceive afterward. And for the record, that doesn't happen to everybody.
Stop trying. It will happen.
Please see "Relax" above.
How many times have you tried and how have you tried it?
Stop. Seriously, please just stop..........
I realized that they really meant well and they were just trying to "help," but after several years of hearing the same things over and over, it could really frustrate me at times. And everyone always seemed to think that they were the first to have ever thought of that.
When and if she DOES get pregnant, rejoice with her! Don't say:
Now that you're pregnant, you can STILL lose it!
I remember when I was pregnant. I had had complications with that pregnancy (with all my pregnancies, actually) and had to have bed rest for the first six weeks and the last six weeks.
But I had reached the end of that "three month" mark and I was thrilled, because I knew that the odds of losing this baby would decrease.
A woman I knew asked me how I was doing and I said "Great. I feel really good about passing the three month mark, knowing that I probably won't lose the baby now."
She responded, "Oh, not necessarily! You can
STILL
lose the baby. My daughter lost hers in her fourth month." I just stared at her, dumbfounded. Why would she TELL me that. Obviously I knew I could still lose the baby at anytime. I was just rejoicing in making the three month mark. Couldn't she just GIVE me that much?
If a miscarriage occurs, mourn with her!
That pregnancy went fine and our son was born healthy, but I did lose our third child in a miscarriage. Although my husband and I talked about it, a few people around me were afraid to even mention it, as they were afraid of hurting me. However, to me, it looked like they didn't care.
One gal came up to me when I was crying about it and told me to stop crying.
She said I had a responsibility to my baby not to cry or mourn, she was in heaven and I shouldn't be sad. Believe me, it's o.k. to mourn the loss of your child, someone you never met but carried within you for months and months and loved.
It's o.k. to say nothing!
Sometimes people just open their mouths and say the wrong things because they feel like they have to say SOMETHING. Bless their hearts, they mean well. And they're trying, they really are.
Dear People, it's o.k. to say nothing. When words fail you, don't desperately try to say something, ANYTHING, just to bridge the silence.
It's o.k. to say nothing. Sometimes a sympathetic ear and a loving hug will say more than your words ever could.
Are you there now?
If you are living with infertility right now, I won't say I've been there. Because I haven't. I've been there with
me
, but I haven't been there with YOU. So I won't say I know what
you
are feeling. I only know what
I
was feeling.
But I can say that each day is a
GIFT
, and if you receive each day as the gift that it is, you will find joy in each new day. And finding joy in each new day, in your husband, in your marriage, and in those you love, will make the journey a little easier.
"But the fruit of the Spirit........is

joy

......."
(Galatians 5:22)
What are

you

doing or going to do today to make your home sing? Please go here for instructions and/or ideas and come back here
to link up to join us today! Please do not put your own "Making Your Home Sing Monday" Linky on your blog.
If you don't want to miss any blogs posts, you can subscribe
by
RSS,
Bloglovin,
Feedly
Facebook or Email
I'd love to connect with you!
I am linking up to these linky parties: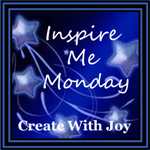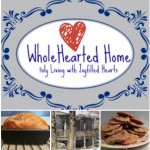 \