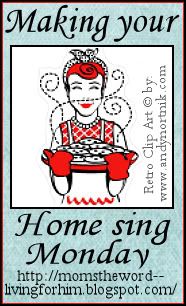 Welcome to the Making Your Home Sing Monday linky party! Every day you are doing something to make your house into a home for yourself and your family (if you have one).
My point with each Monday post is, what are YOU doing or going to do today to make your home sing? It can be an attitude or an action. So have fun, do some blog hopping, and link up!
Thanks!
Topics can include marriage, parenting, encouraging women, organization, cleaning, saving money, our behavior and attitudes, homemaking, homeschooling, recipes.....the opportunities are endless.
Note: We
had
91
linkups last week! You guys are awesomely amazing and amazingly awesome! Don't forget to visit one another and try to leave a comment
on at least one blog to encourage someone today! :)
On the left sidebar (down towards the bottom) is the "Making Your Home Sing! Monday" button which I'd love for you to grab and paste into your post! It is a "no-follow" button.
What is one thing that you could do that would make the biggest difference in your home today? Would it be cleaning your bathroom, mopping the floor, cleaning up the kitchen?
Sometimes we think that "things" make a big impact in our home. The dirty dishes in the sink, the laundry on the floor that needs to be done, the smelly bathroom.
They all fight for our attention and they DO make a big impact on the smooth running of our home. But do they change lives? Do they have the power to put a smile on someone else's face and joy in their heart?
A clean home puts a smile on MY face.
But what is more likely to send our husbands out the door with a sweet smile on
their
face? The fact that they have clean socks or that we gave them a hug and said "I love you?"
I happen to think that mornings can be very frustrating and stressful when you can't find anything clean to wear and you can't find any milk to pour on your cereal because you forgot to add it to the shopping list.
For some people, having clean socks, or a good home-cooked meal makes them feel loved. It is a way of saying "I love you." For some wives, making sure our family has clean socks, neatening up the home, or making a yummy meal is a way of saying "I love you," too.
They work TOGETHER, loving words and loving actions.
Are you loving your home today? Are you thankful for what you have? Do you try and put little touches of joy or fun into it? Are you putting YOU into it?
Are you sending your family out the door with loving words and loving actions? When you think of home, do you think of them?
Are you hating your home today? Do you feel like you are being wasted there? Are you bored? Is it too small? Too messy? Too close to the city? Too far out in the country?
Are you sending your family out the door with complaints and dissatisfaction? Are you taking a moment to tell them goodbye with a quick kiss, hug or an "I love you?"
Sometimes I worry that the last thing my husband or son see as they walk out the door is the
back of my head
as I stare at the computer. And it
IS
if I'm not intentional.
Are you focusing to much on the negative and allowing it to steal your joy today?
When we focus so much on the negative, it's so hard to see the positive. Sometimes I am not thankful for what I have.
My home was just a house when we bought it. We
made it our home
when we moved into it.
This house can be just a house or it can be a
home
. And the only way it can really be a home is if I invest in the making of it. If I put beauty into it. If I put myself into it. If I love those within its walls.
My family is my home.
Sometimes we mistakenly believe that the biggest impact we can make on our home is is to clean it. But the biggest impact we can make on our home is to
love
it.
Be humble and gentle. Be patient with each other, making allowance for each other's faults because of your love.
What are

you

doing or going to do today to make your home sing? Please go here for instructions and/or ideas and come back here
to link up to join us today! Please do not put your own "Making Your Home Sing Monday" Linky on your blog.
If you don't want to miss any blogs posts, you can subscribe
by
RSS,
Bloglovin,
Feedly
Facebook or Email
I'd love to connect with you!
I am linking up to these
parties today: