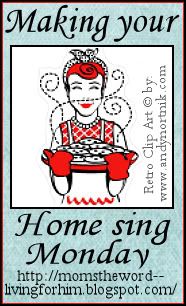 Welcome to the Making Your Home Sing Monday linky party! Every day you are doing something to make your house into a home for yourself and your family (if you have one).
My point with each Monday post is, what are YOU doing or going to do today to make your home sing? It can be an attitude or an action. So have fun, do some blog hopping, and link up!
Thanks!
Topics can include marriage, parenting, encouraging women, organization, cleaning, saving money, our behavior and attitudes, homemaking, homeschooling, recipes.....the opportunities are endless.
Note: We
had
110
linkups last week! You guys are awesomely amazing and amazingly awesome! Don't forget to visit one another and try to leave a comment
on at least one blog to encourage someone today! :)
On the left sidebar (down towards the bottom) is the "Making Your Home Sing! Monday" button which I'd love for you to grab and paste into your post! It is a "no-follow" button.
Sometimes I just feel crabby. I don't have a reason, nothing unusual has happened to upset or annoy me. I can't even use hormones as an excuse.
I.Just.Feel.Crabby.
And I want to
BE
crabby. I want to give in to the grumps and gloom and be mad and annoyed at everything and everyone.
I want to slam drawers and cupboards and howl at the moon.
I want to be annoyed because I slammed the cupboard door and it bounced back and hit me in the head.
I want to be mad because I didn't clean up the kitchen immediately after dinner like I usually do so there are dishes in the sink.
Or I
DID
clean it up after dinner and now there are dishes in the sink. Either way.
I want to be annoyed because I tripped over someone's shoes in the entry hall when I've ASKED them to please put them away.
I want to be grumpy and I want to ENJOY it. I want to feel sorry for myself and wallow in it.
And I don't feel like being an example to anyone. I don't want to have to set an example of Christlike love. I don't want to remember that my attitude can set the tone around here.
I don't want to be reminded that if I get grumpy and snap at someone, I am very likely to drag everyone else down right along with me.
I don't want to
think
about how my attitude affects those around me.
I don't want to think about how they don't deserve to be snapped at or attacked simply because they are breathing too hard or laughing too loud or simply relaxing in front of the t.v. when I think they should be doing something "worthwhile." Like cleaning something. Or organizing something. Or folding something.
Is
THIS
what we want to look like or be compared to? Small, beady eyes all lit up with anger? Hands all ready to reach out like sharp
claws
to get what we want? Mouth set in a frown but ready to open and spew out complaints and harsh words like verbal vomit?
When I am feeling that grumpy, and it doesn't happen very often, but when it
does
......I begin to
LOOK
for things to be unhappy about.
And I find them.
And suddenly, I am not only grumpy, I am dissatisfied. I am unhappy. I am MAD.
Suddenly everything bothers me and I am nagging and nitpicking about all the "little" things that have suddenly become huge.
Suddenly the atmosphere around here is tense. Suddenly everyone is walking around quietly and no one seems to want to look me in the eye. Everyone seems to want to get out of my way. Even the dogs.
This is about the time I realize the mess that I have made.
I have let MY mood become their mood.
I have changed the atmosphere around here. What once was lighthearted is now heavyhearted. What once was laughter is now quiet. And so I feel bad. For them. For me. For the dogs......
I have managed to suck all the joy out of everything and turn it into drudgery. I have made everything harder for myself because now, instead of serving in love, I am serving myself.
And, in serving myself, I have become selfish. And, in being selfish, I have become unhappy. And in being unhappy I have lost my joy!
This is about the time that I start desperately praying for God's grace to show up and save me from myself. Because I still FEEL crabby. But now I feel crabby and
convicted
, and I need His help to turn things around.
Do you feel crabby sometimes?
1. Ask God to turn your mind and your heart around. Remember all you have to be thankful for.
2. Thank Him for each member of your family and for the opportunity to bless them.
3. Go into the bathroom or somewhere to get away for a few moments if you need to.
4. Apologize to those around you if you need to. Let their hugs and love warm your heart.
5. Put on some of your favorite music, grab your children and dance around until you're all laughing.
6. Keep that smile on your face and joy in your heart as you go about your day.
We can hold onto crabby or we can let it go. We can turn ourselves into martyrs and drudges, or we can be thankful for the opportunity to serve in love.
We can take what we do and make it a battle or a blessing.
I choose to make it a blessing. What are YOU going to choose today?
What are

you

doing or going to do today to make your home sing? Please go here for instructions and/or ideas and come back here
to link up to join us today! Please do not put your own "Making Your Home Sing Monday" Linky on your blog.
If you don't want to miss any blogs posts, you can subscribe
by
RSS,
Bloglovin,
Feedly
Facebook or Email
I'd love to connect with you!
I am linking up to these
linky parties: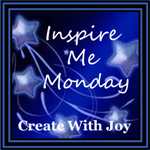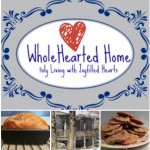 \