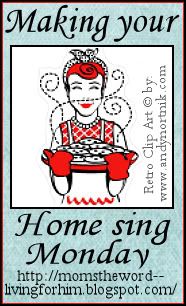 Welcome to the Making Your Home Sing Monday linky
party
! Every day you are doing something to make your house into a home for yourself and your family (if you have one).
My point with each Monday post is, what are YOU doing or going to do today to make your home sing? It can be an attitude or an action. So have fun, do some blog hopping, and link up!
Thanks!
Topics can include marriage, parenting, encouraging women, organization, cleaning, saving money, our behavior and attitudes, homemaking, homeschooling, recipes.....the opportunities are endless.
Note: We
had
100
linkups last week! You guys are awesome! Don't forget to visit one another and try to leave a comment
on at least one blog to encourage someone today! :)
On the left sidebar (down towards the bottom) is the "Making Your Home Sing! Monday" button which I'd love for you to grab and paste into your post! It is a "no-follow" button.
Can you imagine how terrifying it would be to be in an out of control vehicle, careening down the highway at 60 mph and gaining speed? Would you feel very safe if the brake didn't respond to your touch or the steering wheel would not respond to your movements?
Self-control is the ability to manage our emotions, our actions, and our behavior. It's the ability to control our reactions and how we respond to things. It's the ability to control our feelings and not give in to them when we'd like to but really shouldn't.
Self-discipline protects us.

It is our wall

.
Any area that we allow to get out of control and STAY out of control is just an open invitation to say "Hey, we're out of control over here! Come join us! Then we can grow and get even
MORE
out of control!"
A lack of self-discipline is just an open opportunity for chaos.
Self-control works
within
boundaries, not outside of them. It works
with
boundaries, not against them.
It can be very scary to live without boundaries.
Freedom isn't found by having no boundaries. Freedom is found by learning to live within the boundaries of what we already have.
We think that freedom is being able to do whatever we want, without anyone or anything stopping us. So if we are really free, we are living without being controlled, right?
But if we are truly living that "true" freedom, then we
are
being controlled. We are controlled by our OWN thoughts and desires.
How is that freedom?
My thoughts and desires are often selfish, "me" based. How is that freedom?
If I am ruled by me, and what
*I*
want, and my thoughts and wants are often selfish, based more on what is good for ME and not ever what is good for
you
.......how is that freedom?
If I am going to live how I want to live, and say what I want to say, and do what I want to do, how is that freedom?
I am STILL being controlled. But I am being controlled by
ME
.
Me
. A person whose vision doesn't look any further than herself. A person who can't see the good in YOU because I am too busy worshipping the good in
ME
.
A person who can't be blessed by the true joy and beauty of a real, trusting and giving friendship with
you
because I'm too busy wondering
what's in it for me?
Me.
A person who is miserable deep down but has to fiercely protect my "freedom" so that YOU don't realize how
miserable
I am. A person who hides. A person who fears. A person who is lonely. A person who lies, even to herself.
A person whose "me filter" is turned so high that it's all about me. All the time. And frankly, I'm sick of me.
That is what it would be like to live a life only focused on "
me."
No thank you.
Frankly, I will TAKE those boundaries of self-control. I will take those boundaries of self-discipline. I will take those boundaries of limiting self-will.
Because I have seen how selfish I can be. I have seen how thoughtless, self-serving and rude I can be. And do you know what?
It's not freedom. It's not fun. It's not comforting. It's not even easy!
For, dear brothers, you have been given freedom: not freedom to do wrong, but freedom to love and serve each other. (Galations 5:13)
So for me, true freedom is nothing without self-control. And self-control is nothing without discipline. And discipline is nothing without motivation. And motivation is nothing without reason. And reason is nothing without Christ!
For the Lord is the Spirit, and wherever the Spirit of the Lord is, there is freedom. (II Corinthians 3:17)
What are

you

doing or going to do today to make your home sing? Please go here for instructions and/or ideas and come back here
to link up to join us today! Please do not put your own "Making Your Home Sing Monday" Linky on your blog.
If you don't want to miss any blogs posts, you can subscribe
by
RSS,
Bloglovin,
Feedly
Facebook or Email
I'd love to connect with you!
I am linking up to these
parties today: