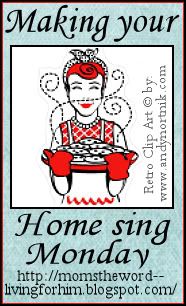 Welcome to the Making Your Home Sing Monday linky
party
! Every day you are doing something to make your house into a home for yourself and your family (if you have one).
My point with each Monday post is, what are YOU doing or going to do today to make your home sing? It can be an attitude or an action. So have fun, do some blog hopping, and link up!
Thanks!
Topics can include marriage, parenting, encouraging women, organization, cleaning, saving money, our behavior and attitudes, homemaking, homeschooling, recipes.....the opportunities are endless.
Note: We
had
89
linkups last week! You guys are awesome! Don't forget to visit one another and try to leave a comment
on at least one blog to encourage someone today! :)
On the left sidebar (down towards the bottom) is the "Making Your Home Sing! Monday" button which I'd love for you to grab and paste into your post! It is a "no-follow" button.
As I write this, my husband and youngest son are out in a snow storm. Our son was at work when it started and by the time he left for home it was bad. His car, along with over 30 other cars, had to be abandoned around a particularly difficult curve of road. So he called his dad to come get him.
But the road wasn't as crowded as the stretch of road where our friends left
THEIR
car. Our friends counted over 60 cars abandoned or crashed along the road as they walked home.
Tonight my facebook was filled with posts of people who were happy to be home and warm but whose vehicles were left abandoned along the road somewhere.
My husband just called right before I started writing this, so I know he is well and they are trying to head home (he was in a parking lot when he called). That's why I'm not worried as I just talked to him! ;) But I am praying for their safety, of course.
But due to the last several hours of phone calls and people trying to contact me or vice versa, I forgot to get my post finalized for this linky party. So I don't have a post.
By the time you read this I imagine my hubby and son will be safe and warm inside our home and I will be able to look at the snow and see the beauty of it, instead of wondering where my family is! It's amazing what havoc a sudden freak snowstorm can cause when people are unprepared. We literally did not expect this much snow this fast.
Stay warm everyone! ;)
Note:
My hubby and son are home safe, yay! Son's car is out there partying with a bunch of other cars somewhere, lol! We will have to wait until the weather clears for that one.
What are

you

doing or going to do today to make your home sing? Please go here for instructions and/or ideas and come back here
to link up to join us today! Please do not put your own "Making Your Home Sing Monday" Linky on your blog.
If you don't want to miss any blogs posts, you can subscribe
by
RSS,
Bloglovin,
Feedly
Facebook or Email
I'd love to connect with you!