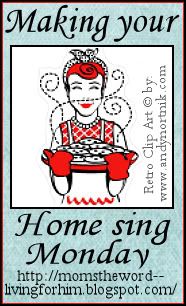 Welcome to the Making Your Home Sing Monday linky
party
! Every day you are doing something to make your house into a home for yourself and your family (if you have one).
My point with each Monday post is, what are YOU doing or going to do today to make your home sing? It can be an attitude or an action. So have fun, do some blog hopping, and link up!
Thanks!
Topics can include marriage, parenting, encouraging women, organization, cleaning, saving money, our behavior and attitudes, homemaking, homeschooling, recipes.....the opportunities are endless.
Note: We
had
93
linkups last week! You guys are awesomely amazing and amazingly awesome! Don't forget to visit one another and try to leave a comment
on at least one blog to encourage someone today! :)
On the left sidebar (down towards the bottom) is the "Making Your Home Sing! Monday" button which I'd love for you to grab and paste into your post! It is a "no-follow" button.
Do you want to keep your love alive and keep your marriage strong? Then

DON'T DO

this:
1. Ignore him when you're mad at him.
Refuse to talk to him and don't communicate what you're feeling. After all, he's your husband and if he really loved you, he'd
know
what you're thinking and feeling, right? You shouldn't have to
tell
him. He should just know. Do not talk to him no matter how much he begs and how much he apologizes. Refuse to talk it out. Make him suffer. He made a mistake and he deserves to pay for it. So no talking but you can glare at him as much as you want.
2. Don't forgive him so quickly or easily.
Hold onto your bitterness for as long as you can.
Whoever holds onto all their anger holds onto all the power in the relationship.
Anger is empowering and whoever has the most control wins. And you want to win, no matter what.
3. Make sure you tell your children about all the stuff their dad has said or done that's hurt you, so that you can get them on YOUR side.
That way, you can gang up on him
together
and wear him down. With the kids on "team mom," you can work together to bring daddy down.
4. Talk badly about him to all your friends and family and make sure you air all your disagreements and anger on facebook.
That way, everyone will realize how difficult you have it and you will have their sympathy. Make sure that you look good and
he
looks bad.
5. Don't EVER admit when you're wrong.
Admitting that you're wrong is a sign of weakness and you can NOT afford to be weak in your marriage.
You must WIN at all costs, even if it means the destruction of your marriage and family.
6. Withhold affection.
Even after he has said he is sorry. Barely return his kisses (if you do it at all) and move away when he tries to reach out to hold you. This will let him know that you are
STILL
mad even though you already told him that you're not and that you forgave him. Eventually he will realize that your words will tell him one thing but your actions will tell him another, and that forgiveness is given over a matter of days or weeks or even months, not minutes.
7. Nag him.
The opportunities are endless here. You can literally nag him about
anything!
Isn't that exciting! When you ask him to do something, continually harass him until he does it. Complain, berate him, point out how worthless he is for NOT doing it, just have at it! Nag him to your heart's content until he does exactly what you want, exactly the way that you want it, exactly WHEN you want it. Eventually he will learn to let you have your way just to shut you up. That's the beauty of nagging!
You will wear down his spirit, his joy, and his love for you but that's o.k., he will do what you want!
8. Continually bring up the past and throw it in his face.
Don't let the fact that he has apologized over and over for something stop you. You need to continually remind him of that time when he said this or did that, just so that he knows that you are
keeping score
. When you bring up the past, you have more things that you can use against him, so that a small fight can become an even bigger one that you can
win
and make him feel bad!
In case it's not clear, DON'T take any of that "advice" to heart. In fact, do the
opposite
and build up that man and marriage of yours!
"A wise woman builds her home, but a foolish woman tears it down with her own hands."

Proverbs 14:1
"Better to live on a corner of the roof than share a house with a quarrelsome wife."

Proverbs 25:24
What are

you

doing or going to do today to make your home sing? Please go here for instructions and/or ideas and come back here
to link up to join us today! Please do not put your own "Making Your Home Sing Monday" Linky on your blog.
If you don't want to miss any blogs posts, you can subscribe
by
RSS,
Bloglovin,
Feedly
Facebook or Email
I'd love to connect with you!
I am linking up to these
parties today: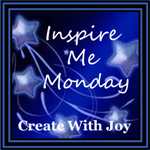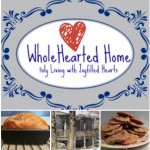 \