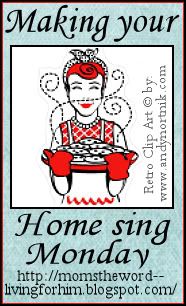 Welcome to the Making Your Home Sing Monday linky
party
! Every day you are doing something to make your house into a home for yourself and your family (if you have one).
My point with each Monday post is, what are YOU doing or going to do today to make your home sing? It can be an attitude or an action. So have fun, do some blog hopping, and link up!
Thanks!
Topics can include marriage, parenting, encouraging women, organization, cleaning, saving money, our behavior and attitudes, homemaking, homeschooling, recipes.....the opportunities are endless.
Note: We
had
69
linkups last week! You guys are awesome! Don't forget to visit one another and try to leave a comment
on at least one blog to encourage someone today! :)
On the left sidebar (down towards the bottom) is the "Making Your Home Sing! Monday" button which you are welcome to grab and paste into your post if you want but it's not a requirement. It is a "no-follow" button.
So here we are in a new year already. Sometimes it amazes me how fast the years seem to fly by. They never seemed to do that when I was a kid.
I remember when I finished six grade. I remember the last day of school we had a picnic in the park. I had a great time at the picnic but it was then that I realized I was halfway through to graduation.
I remember thinking that I had six more years of school. Six more years!!!!! It seemed like forever. The years loomed before me, seemingly stretching to eternity.
Six more years of hard work, getting up every morning and dragging myself to school, going to bed early every night.........not to mention all the homework. It just seemed like drudgery.
Sometimes our lives can seem like that. We focus on the negative, the difficult things, the mundane.
We forget to look for the positive things happening around us. We forget to find joy in the good things. We forget to be thankful.
Life is like a bank account. You get out of it what you put into it. If you put in regular deposits, you will have something to draw from, and you will accrue interest.
But if you never deposit anything into the account and keep making withdrawals, you will eventually go bankrupt.
Every time you smile, laugh, take an interest in something, smell a flower, take a walk, give someone a hug, help someone, pray with someone, show loving actions to someone, etc., you are making a deposit in your "life" account.
Every time someone helps YOU, or gives you a hug or makes you smile or shows loving actions to you, they are making a deposit in your life account.
Occasionally your life account can be "overdrawn," and then you need to step back, take a deep breath, and remind yourself that no matter what stress you've got going on in your life, you can trust the Lord to see you through. He will always guarantee that your check is good and He doesn't charge a fee because He already paid it Himself!
So make a deposit in your life account! Put some beauty and joy in your home today: light a candle, put some fresh flowers on the table, put some lively music on and dance and sing your way through your chores, read your children a book.
Invest in your life account, take a walk, call your mom, tell your husband and children you love them, make your child giggle, put a smile on their face and make your home sing!
What are

you

doing or going to do today to make your home sing? Please go here for instructions and/or ideas and come back here
to link up to join us today! Please do not put your own "Making Your Home Sing Monday" Linky on your blog.
If you don't want to miss any blogs posts, you can subscribe
by
RSS,
Bloglovin,
Feedly
Facebook or Email
I'd love to connect with you!
I am
linking up to these linky
parties: