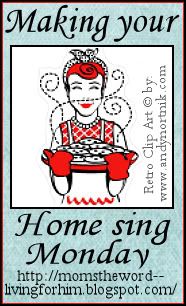 Welcome to the Making Your Home Sing Monday linky
party
! Every day you are doing something to make your house into a home for yourself and your family (if you have one).
My point with each Monday post is, what are YOU doing or going to do today to make your home sing? It can be an attitude or an action. So have fun, do some blog hopping, and link up!
Thanks!
Topics can include marriage, parenting, encouraging women, organization, cleaning, saving money, our behavior and attitudes, homemaking, homeschooling, recipes.....the opportunities are endless.
Note: We
had
89
linkups last week! You guys are awesome! Don't forget to visit one another and try to leave a comment
on at least one blog to encourage someone today! :)
On the left sidebar (down towards the bottom) is the "Making Your Home Sing! Monday" button which I'd love for you to grab and paste into your post! It is a "no-follow" button.
Are you sacrificing time with your family for time with your vacuum?
I definitely agree that we DO need to get the dishes and the laundry done, meals cooked, kitchen cleaned, etc.
But I also know that sometimes we don't manage our time very well.
If you are spending your daytime hours playing games on facebook, watching t.v. or surfing the internet and spending your
evening
hours catching up on your homemaking chores, you may want to rethink your priorities.
Evening time is family time, or whatever time your family is all together. Do you really want to spend it catching up on chores that you
could
have done earlier?
I know how tempting it is to spend time on the computer, watch a movie, and/or just sit down and read a book all day. It's fun, right?
Do we jump up the minute we hear our husband's key in the door and try and look like we've been doing something other than playing on the computer the last couple of hours?
Are we "goofing off" when our husbands aren't home, and then saving all the cleaning and other homemaking responsibilities for when he
IS
home?
Many people would say that this is fine, as long as things are getting done.
But at whose expense?
If I am using most of my day time hours every day to surf the net, explore pinterest, watch a movie or chat with my friends, then I am not managing my time well. In
my
opinion anyway.
If I do that, then what happens is that my day time hours are being used for MY personal interests and desires. Then I use my evening time, when my whole family is home and together, to do chores and things that I could have and SHOULD have done during the day.
I become too "busy" to spend time with my family and so I sacrifice my time with my family for time with my vacuum.
It doesn't mean that I should never have fun in my day. It just means that I need to have a balance.
I "signed on" to be a wife and a mom when I got married and had my children. That means I have a responsibility to my family too. It's no longer all about me. Actually, it never was! I just didn't realize it until I grew up! ;)
Balance.
This is an issue that many moms have to struggle with at one time or another, because there is no one monitoring our day. I have struggled with managing my time too. Still do, sometimes!
I can waste as much of it as I want or be as diligent as I want. My husband will never know.
But
I
will know. And God will know.
I can be lazy and selfish and focus only on
me
, or I can serve my family in love.
So what about
you?
Do you feel like your priorities are out of whack?
Would you
change
your daily activities if someone installed a camera in your home? Or would you spend your day exactly the same?
Do you feel like you need to hide how you spend your time?
Are you taking too much time out for "fun?" Or not enough?
You see, there's the other end of the spectrum, where mom is spending TOO MUCH time with her vacuum......spending much of the day and the evening cleaning, straightening and maintaining her home.
Too busy cleaning to take a moment to read a book to her child and too busy cleaning the kitchen and doing the laundry to sit down and watch a movie with her husband. I've been there too!
In fact, some weeks I've been on BOTH sides of this dilemma. Too much fun AND too much working.....all in the same week! It's enough to give you a headache.
It's all about balance. We women struggle with finding it sometimes, don't we?
I will tell you one thing:
I think we know when we're NOT balanced...........
.....when we're deleting our computer history so no one happens to see how much time we wasted on the internet today.
.....when we're feeling guilty because we know we're not being diligent with our time.
.....when we're constantly yelling at our kids to hurry up because WE didn't get off of the computer in time and now we're yelling at THEM to walk faster because we're late.
.....when we are constantly stressed and anxious and tired and feel like we're doing
everything
and yet accomplishing
nothing
.
.....when we feel like we are all work and no play.
.....when we feel like we are all play and no work.
.....when we feel guilty because we feel like we're doing the best we can and we STILL feel like we're letting someone down somewhere.
We have to remember what's important in life. We have to remember our priorities. We have to remember who we're doing it for. For them. For Him. For ourselves, even!
We have to remember that we can't please everyone. So we need to stop trying. We need only please those that God has called us to please, and serve those that God has called us to serve.
We can trust God to help us find a balance. All we have to do is ask! Ask Him for help today and make your home sing!
What are

you

doing or going to do today to make your home sing? Please go here for instructions and/or ideas and come back here
to link up to join us today! Please do not put your own "Making Your Home Sing Monday" Linky on your blog.
If you don't want to miss any blogs posts, you can subscribe
by
RSS,
Bloglovin,
Feedly
Facebook or Email
I'd love to connect with you!
I am linking up
to these parties today: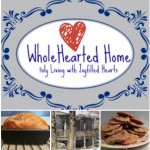 \

\