This post is part of the Happy Wives Club Blog Tour which I am delighted to be a part of along with hundreds of inspiring bloggers. To learn more and join us, CLICK HERE!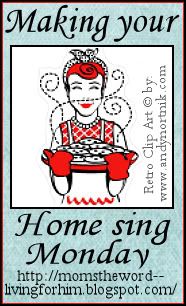 Welcome to the Making Your Home Sing Monday linky
party
! Every day you are doing something to make your house into a home for yourself and your family (if you have one).
My point with each Monday post is, what are YOU doing or going to do today to make your home sing? It can be an attitude or an action. So have fun, do some blog hopping, and link up!
Thanks!
Topics can include marriage, parenting, encouraging women, organization, cleaning, saving money, our behavior and attitudes, homemaking, homeschooling, recipes.....the opportunities are endless.
Note: We
had
86
linkups last week! You guys are awesome! Don't forget to visit one another and try to leave a comment
on at least one blog to encourage someone today! :)
On the left sidebar (down towards the bottom) is the "Making Your Home Sing! Monday" button which you are welcome to grab and paste into your post! It is a "no-follow" button.
Are you happily married but want
more
joy in your marriage? Do you want to continue to grow more in love with your husband every day? Do you want him to continue to grow more in love with you?
Do you want to be a blessing to him? Do you want your children to love, honor and respect him?
If so, then here is a list of things NOT to do:
1.
Make fun of him when he shows his softer side
. Laugh at him and tease him (in a mean way) and don't forget to tell your friends what a "big baby" he is right in front of him. Tell him you thought you married a MAN, not a baby.
2.
When he asks "what's wrong?" don't tell him.
Expect him to
know
what you're feeling. After all, if he really loved you, he would KNOW why you're upset, right? Refuse to talk to him. Just yell at him to "GO AWAY!!!!!" whenever he tries to ask "What's wrong?" or asks how he can help.
3.
Ask him to help you with something and then criticize the way he does it.
Seriously, he's HOW OLD and he can't manage to load the dishwasher the "right" way? How ridiculous is that? Redo
everything
he does. Take
everything
out of the dishwasher, slam it on the counter, and reload it. If he cleans the bathroom, heave a big sigh and say "I wish you'd stop 'helping' me!" and clean it again. If he vacuums, vacuum it again so the rug pattern goes the "right" way. Let him know he's not good enough and his help isn't appreciated.
4.
Treat him like he's another one of your children.
You don't have two children, you have THREE children, right? Tell him that,
all the time
. Boss him around constantly. Tell him "No," he's not getting another cookie. Remind him that he can't have dessert because he didn't eat all of his vegetables. Be sure and scold him in front of the children when he walks too slow or does something you think is wrong. After all, you don't want the kids to grow up respecting their dad, do you?
5.
Tell his deepest secrets to all of your friends and

his

friends and have a good laugh at his expense.
Try to make him feel stupid whenever possible. Laughter is good for the soul and your hubby gives you some great material every day, doesn't he? When he claims he can't trust you because you told his secrets, try and look apologetic and say "Sorry, it just slipped out." Then do it again the next time he tells you something in confidence.
6.
When he makes a bad mistake, or if you have a fight, question his abilities, intelligence and manhood and bash him to all your friends.
Be sure and use words like "dumb," or "stupid," or "wimp." Try to humiliate him by posting it all over facebook so that everyone can see what an "idiot" you married and don't ever let him forget his mistake. Post about your fight and make sure that he looks bad and you look good.
7.
Compare him to an old boyfriend or your friend's husband.
Say "Sometimes I wonder why I ever married you" or "Sarah's husband makes THREE TIMES as much as
you
do!" or "Teresa's husband is so romantic. She sure is blessed. I wish
I
had a husband like that," etc. If you don't want to say it to his face, just think about it every day so that you become discontent. He will eventually figure it out.
8.
Criticize him and talk about his faults in front of your children.
Make sure that they know that he has no
real authority
over them. Make sure they understand that YOU are the boss and whatever daddy says doesn't count. Try and get them to agree with you by asking the right kind of questions, such as "Daddy sure doesn't know anything" or "Daddy sure is selfish, isn't he?" Tell them "Just ignore daddy, o.k.?"
9.
Degrade his job whenever you can.
Bonus points if you talk about what a lousy job he has in front of friends. Belittle every promotion he gets or every positive thing that he does in his job. Make sure that he knows that nothing he does will ever be good enough for you until he earns the kind of money you think you deserve and has the kind of job you think is worthwhile and important. Let him know his job is an embarrassment to your parents.
10.
Demean any attempts he makes at being romantic or loving.
Make sure he knows that he is a big failure in romance and in the bedroom. If he brings you a single rose, let him know that a bouquet would have been better. If he brings you a dozen roses, make sure he knows they are the wrong color or the wrong flower. If he tries to woo you into the bedroom, let him know that the flu would be preferable to spending that time alone with him.
If you try these things, you will be well on your way to a miserable marriage! So I suggest that you avoid them and go hug that loving man of yours and tell him you are so blessed to be married to him! ;)
What are

you

doing or going to do today to make your home sing? Please go here for instructions and/or ideas and come back here
to link up to join us today! Please do not put your own "Making Your Home Sing Monday" Linky on your blog.
If you don't want to miss any blogs posts, you can subscribe
by
RSS,
Bloglovin,
Feedly
Facebook or Email
I'd love to connect with you!
Fawn Weaver, the founder of the Happy Wives Club wrote a book about the best marriage secrets the world has to offer. They say the book is like "Eat, Pray, Love meets The 5 Love Languages." I say the book is inspiring. You can grab a copy HERE.
Also, I am linking up to these
linky
parties: